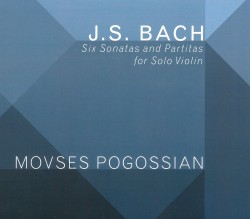 J.S. Bach – Six Sonatas and Partitas for Solo Violin
Movses Pogossian
New Focus Recordings FCR178 (newfocusrecordings.com)
Review
On the back cover of the booklet inserted in the album sleeve is the handwritten note: "in memory of our common research of g minor. a minor sonata / Budapest 6.9.2015 / Márta-György Kurtág." Before recording the Sonatas and Partitas Movses Pogossian journeyed from Los Angeles to Budapest to work with the 89-year-old Kurtág and his wife Márta. Pogossian had collaborated with the composer before, but on Kurtág's music, notably the Kafka Fragments, which he performed with soprano Tony Arnold in Toronto this past March. It was then that I asked Movses about his "research" with the Kurtágs. He said that Kurtág was very particular about harmony, structure and tempo and had an allergy to anything that did not feel right. Capturing the character of the piece was the most important thing. For instance, Kurtág said the subject of the A Minor Fugue should be "without emotion," suggesting the link between key and Affektenlehre.
Their "research" resulted in transforming the Sonatas and Partitas into something in the nature of six Baroque altarpieces, where each movement is a panel depicting a tableau that illustrates some aspect of the key in question. Pogossian remains faithful to the affect of each set, even in the Double of the Corrente of the B Minor Partita, where he frames the torrential stream of notes within the penitential mood of that key. Phrasing is free, as though allowing singers to breathe and dancers to pause between phrases. Pogossian's approach is far from those who treat this repertoire as though an extreme sport.
The G Minor Adagio, dark timbre, grieving harmonies, each phrase rising from stillness, the fioriture parsed for motivic shapes, the last chord held 12 seconds a niente for a running time of nearly six minutes; the grave Fugue (Kurtág wished it slower); the lilting Siciliana danced with sad restraint; the grimly brilliant Presto. The desolate A Minor Sonata, the Andante, an aria of loss (compare Aus Liebe will mein Heiland sterben). Pogossian plays the D Minor Partita with noble restraint, and takes the cosmic Chaconne at a stately quarter = 46. He treats the Adagio of the C Major Sonata as though the Creator is breathing on the waters (eighth = 40), while the Olympian Fugue follows as the fully formed world. The pastoral Largo in F major is all smiles, and the final Allegro could be titled Tutto nel mondo è burla. The E Major Partita radiates uttermost joy.
The three CDs are a panoply, but they give only a hint of when one sees Pogossian in person, for he enacts the affects of the Sonatas and Partitas with his whole body and breath. Such intense identification of body, mind and spirit with sound is a rare gift. I am also grateful for the notes by Paul Griffiths, who wrote virtually short poems on each of the types of movements. They end with words on the Ciacconia: "Finally the voices spiral into the keynote. This was the lesson that had to be taught and learned. How to end."