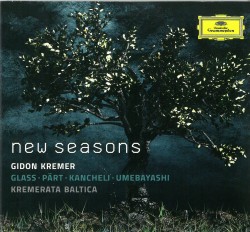 New Seasons
Gidon Kremer
Deutsche Grammophon 4794817
Review
The following is an excerpt from Strings Attached (September 2015) which can be read in its entirety here.
The always interesting Gidon Kremer is back with New Seasons, a CD featuring his own string ensemble the Kremerata Baltica in works by Philip Glass, Arvo Pärt, Giya Kancheli and Shigeru Umebayashi (Deutsche Grammophon 4794817). Kremer notes that he has always been interested in the subject of seasons in music, and feels that the composers here are all "saying something about a better world, creating new seasons that will remain valid forever."
I'm not sure how much that relates to two of the works – Pärt's Estonian Lullaby and Umebayashi's Yumeji's Theme from the 2000 movie In the Mood for Love are less than six minutes in combined length – but there's no doubting the relevance of the main work here. Glass's Violin Concerto No.2 "The American Four Seasons" is an attractive and accessible work in which the familiar repeated patterns and sequences, while still clearly Glass, seem to provide links to Vivaldi.
Kancheli's Ex contrario is a hauntingly beautiful work in which Kremer and the ensemble are joined by solo cello, keyboard (sampler), bass guitar and performance CD; there's a clear harpsichord sound, but nothing else from the latter three seems to stand out. Which is just the way it should be.