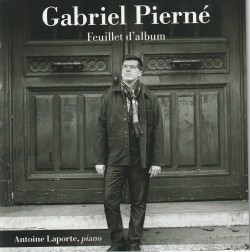 Gabriel Pierné – Feuillet d'album
Antoine Laporte
Independent (antoinelaporte.ca/home-1?lang=en)
Read the Review
The music of Gabriel Pierné is not all that well known today compared with that of his more famous contemporaries Claude Debussy and Paul Dukas. Born in Metz in 1863, he studied at the Paris Conservatoire, winning the Prix de Rome in 1882 and ultimately enjoying a successful career as a conductor, organist and composer. Included amongst his large output is a significant number of piano compositions presented here on this two-disc recording by Quebec pianist Antoine Laporte, a prize winner at the Bradshaw & Buono International Piano Competition in New York and the Jinji Lake International Piano Competition in Suzhou, China.
The Quinze pièces pour le piano Op.3 from 1885 is a delightful set of character pieces, each one evoking a particular mood from the light-hearted Coquetterie to the rousing Tarantelle finale. Laporte's approach is refined and elegant, displaying fine tonal colours while aptly demonstrating Pierné's eclecticism. The Premier Nocturne Op.31 is a languid and lyrical essay while the Étude Op.13 concluding the first disc is a true tour de force that Laporte handles with great panache.
Disc two takes the listener into other facets of Pierné's compositional style – the Trois Pièces Op.40, the Variations Op.42 and the posthumous set of Six Pieces which are tributes to other composers. Most striking is the degree of technical prowess demanded of the performer, found in the virtuosic first and third movements of Op.40 and the finale of the Variations. Throughout, Laporte delivers a brilliant performance of this often daunting repertoire.
French-only and English-only booklets and notes are available. This is a fine recording of music deserving greater recognition.