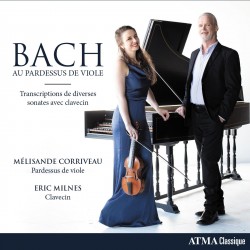 Bach – Au Pardessus de Viole (transcriptions of diverse sonatas with clavecin)
Mélisande Corriveau; Eric Milnes
ATMA ACD2 2826 (atmaclassique.com/en)
Listen
Sonate pour violon et bc BWV 1021 I Adagio
Sonate en trio pour orgue no3 BWV 527 I Andante
Sicilienne BWV 1031
Read the Review
Although relatively obscure today, it is not hard to imagine pardessus de viole being the queen of the instruments in mid-18th century France, albeit for a short period of time. The smallest member of the viola da gamba family was invented in France to counter the newcomer of that time – the violin. Its uniquely delicate sound and slender shape were particularly popular with women, inspiring a slew of new compositions and arrangements before falling off the musical radar.
Multi-instrumentalist Mélisande Corriveau shines spectacularly on this recent release of selected Bach compositions adapted for pardessus de viole. An imaginative and elegant player, Corriveau ventures on a fine exploration of the contemplative aspects of Bach's music, further enhanced by the sonic qualities of her instrument, which, interestingly, was made during the reign of King Louis XV. On the other end of this musical equation is harpsichordist Eric Milnes, an intrinsic performer with a splendid feel for balance and flourish. Here the voices are so finely attuned to the nuances of Bach's music that we never question the fact that Bach did not write a single piece for this instrument and, in fact, may not have been aware of its existence.
The album is comprised of sonatas and trios originally for violin, viola da gamba and organ, rich with counterpoint and dialogue between instruments. There is a stillness and beauty to the ensemble playing that engages the listener on a deep level.