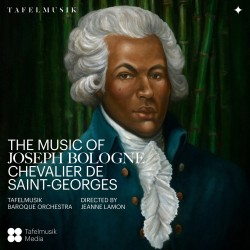 The Music of Joseph Bologne, Chevalier de Saint-Georges
Tafelmusik Baroque Orchestra
Tafelmusik Media 880513103227 (tafelmusik.org)
Read the Review
One of Tafelmusik's most interesting and exciting recordings has recently been re-released, available on all major digital platforms. Originally recorded by CBC Records in 2003, The Music of Joseph Bologne, Chevalier de Saint-Georges features a generous sampling of the music of the one of the most fascinating, influential and multi-talented figures of late-18th-century Paris. In the excellent essay commissioned for the re-release, Bologne expert Marlon Daniel writes: "A remarkable violinist, orchestra leader, and composer, [Bologne] was at the centre of Parisian musical life in the late 1700s. He was a trailblazer who commissioned and led performances of great works, such as the six Paris Symphonies of Haydn." He was also a celebrated fencer, military leader and, as this recording demonstrates, a first-rate composer.
The recording features stylishly elegant performances of the Symphony in G Major, Op.11, No.1 and the Violin Concerto in D Major, Op.3, No.1, the latter featuring the sensational playing of Linda Melsted. Also included are charming excerpts from L'amant anonyme, the only surviving opera by Bologne (recently given its Canadian premiere by Opera McGill), and music by Leclair and Gossec. The recorded sound is excellent and the orchestra, under the direction of Jeanne Lamon, digs into the music with passion and grace.
Though Bologne was well-regarded and knew great success in his time, he also encountered racism and was blocked from attaining even more prominent positions – which he deserved – because of the colour of his skin. As wonderful as this recording's program and performances are, its re-release is important because it puts Bologne's achievements and remarkable skill as a composer at the centre of the project and celebrates him for the great artist that he was. Daniel's essay is fascinating, and the accompanying artwork by Gordon Shadrach is beautiful and deeply moving. Let's hope that Tafelmusik will give us much more of Bologne's fabulous music in future concerts and recordings.