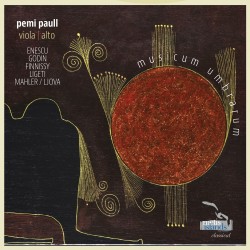 Musicum Umbrarum
Pemi Paull
Metis Islands Records MI-008 (metis-islands.com)
Read the Review
The following review is an excerpt from Strings Attached (March 2019) which can be read in its entirety here.
On Musicum Umbrarum, his debut solo album, the Canadian violist Pemi Paull presents five solo works that he feels show the interplay between past and present – "how the past speaks to the present and how the present responds." (Metis Islands Records MI-008; metis-islands.com).
George Enescu's Menetrier is actually the opening movement of his Impressions d'enfance for violin and piano; adapted here by Paull, it provides a great start to the CD. The Two Wölfli Sketches – Horror Vacui and Musicum Umbrarum, from 2011 by the Canadian composer Scott Godin (b.1970), take their inspiration from works by the early 20th-century Swiss painter Adolf Wölfli, who spent much of his later years in psychiatric care and therapy. The brief Obrecht Motetten III, from 1980 by the English composer Michael Finnissy (b.1946), looks anew at the polyphony of the Flemish Renaissance composer Jacob Obrecht.
The central work on the CD is the towering Sonata for Viola Solo by György Ligeti. A relatively late work from 1991-94 it has a fascinating and original construction: a first movement played entirely on the low C string; a second of frantic double stops; a third movement of torment and struggle; a muted perpetual motion fourth; a fifth mostly in parallel seconds and sevenths; and a Chaconne chromatique to finish. Paull meets every challenge with ease and authority.
The final track is one that makes you look twice at the track listings to make sure you read it correctly – the Adagietto from Mahler's Fifth Symphony, written as a love song to his then-new wife Alma. It's an intriguing possibility, but the reality is even more intriguing, the piece being played entirely pizzicato as performed (and notated for Paull) by Ljova, the Russian violist Lev Zhurbin. It's really quite beautiful, and a lovely ending to an outstanding debut CD.