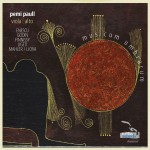 On Musicum Umbrarum, his debut solo album, the Canadian violist Pemi Paull presents five solo works that he feels show the interplay between past and present – "how the past speaks to the present and how the present responds." (Metis Islands Records MI-008; metis-islands.com).
George Enescu's Menetrier is actually the opening movement of his Impressions d'enfance for violin and piano; adapted here by Paull, it provides a great start to the CD. The Two Wölfli Sketches – Horror Vacui and Musicum Umbrarum, from 2011 by the Canadian composer Scott Godin (b.1970), take their inspiration from works by the early 20th-century Swiss painter Adolf Wölfli, who spent much of his later years in psychiatric care and therapy. The brief Obrecht Motetten III, from 1980 by the English composer Michael Finnissy (b.1946), looks anew at the polyphony of the Flemish Renaissance composer Jacob Obrecht.
The central work on the CD is the towering Sonata for Viola Solo by György Ligeti. A relatively late work from 1991-94 it has a fascinating and original construction: a first movement played entirely on the low C string; a second of frantic double stops; a third movement of torment and struggle; a muted perpetual motion fourth; a fifth mostly in parallel seconds and sevenths; and a Chaconne chromatique to finish. Paull meets every challenge with ease and authority.
The final track is one that makes you look twice at the track listings to make sure you read it correctly – the Adagietto from Mahler's Fifth Symphony, written as a love song to his then-new wife Alma. It's an intriguing possibility, but the reality is even more intriguing, the piece being played entirely pizzicato as performed (and notated for Paull) by Ljova, the Russian violist Lev Zhurbin. It's really quite beautiful, and a lovely ending to an outstanding debut CD.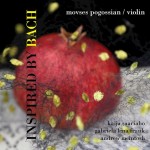 Links between past and present are central to another solo recital, as violinist Movses Pogossian follows up his 2017 release of the Bach Solo Sonatas and Partitas with Inspired by Bach (New Focus Recordings FCR206 newfocusrecordings.com/catalogue/movses-pogossian-inspired-by-bach), a CD that features three new works that he feels "follow in the inescapable shadow of Bach's music for unaccompanied violin… connecting the listener with Bach and extending the legacy of the unaccompanied string works." The connection with Bach may be a bit tenuous at times, but they certainly do fulfill the latter aim.
Kaija Saariaho's four-movement Frises starts with the final D of the Bach D-Minor Chaconne, and each of the movements is focused on one historical ostinato-variation form – passacaglia or chaconne, for instance. In a concert setting, prepared sound materials are triggered by the soloist during the performance, together with real-time processing of the violin sound. Not here, though: Pogossian recorded the violin part alone, with Jean-Baptiste Barrière adding the electronics afterwards. It's a tough listen at times, but always engrossing.
The American composer and pianist Gabriela Lena Frank's Suite Mestiza was inspired by South American Andean culture, in particular sights and sounds remembered from trips to Peru with her mother. Described as programmatic and colourful, the seven movements depict scenes and characters from the Andes region. It's imaginative and wide-ranging writing that draws quite remarkable playing from Pogossian. You can watch his performance on YouTube.
The American composer and violinist Andrew McIntosh says that his seven-movement work was partly inspired by the idea of juxtaposing different, clearly defined but unconnected shapes and colours. Certainly his Shasta starts that way, a fast and bustling opening that recalls the bariolage passages in the Bach works, followed by a still, long-held single note. An unexpected addition is the scoring for eight wine glasses bowed by four performers; they make their most noticeable contribution in the final movement, giving the work a peaceful ending that sounds like gentle breathing
Whatever the technical or musical challenges, nothing seems to create problems for Pogossian, who is quite superb throughout a terrific CD.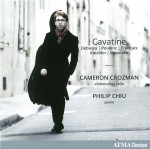 Cavatine is the really impressive debut CD from Canadian cellist Cameron Crozman, ably accompanied by pianist Philip Chiu (ATMA Classique ACD2 2787; atmaclassique.com/En/Albums/AlbumInfo.aspx?AlbumID=1619). Having studied at the Paris Conservatoire for six years Crozman says it was inevitable that his first album would be filled with French music, and the multi-faceted program here includes Debussy's Cello Sonata from 1915 and works that the soloist feels emerged from the new wave that Debussy created.
The delightful Cello Sonata by Francis Poulenc really deserves to be heard more often; completed in 1948, its four movements are full of the lyrical charm so typical of the composer.
In the early 1930s Charles Koechlin set 20 Breton folksongs for cello and piano, the first two of the three sets being published in 1934 as Chansons bretonnes sur des thèmes de l'ancien Folklore Op.115; four short pieces from the first collection and two from the second are heard here.
Jean Françaix's Variations de concert date from 1950, the ten brief variations displaying a wide range of mood, style and tempo, and ending with a dazzling final variation.
The Louange à l'éternité de jésus, the fifth movement from Olivier Messiaen's astonishing Quatuor pour le fin du Temps completes the disc. A calm, soaring and meditative cello melodic line over quiet piano chords, it perhaps loses some of its effectiveness outside of the context of the complete work, but nevertheless is a beautiful ending to a highly commendable CD.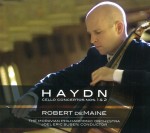 There's more outstanding cello playing on Haydn Cello Concertos Nos. 1 & 2 with the American cellist Robert deMaine and the Moravian Philharmonic Orchestra under Joel Eric Suben on Nova Scotia's Leaf Music label (LM 222; leaf-music.ca/product/lm222).
The soloist, an original member of the Ehnes Quartet, is principal cello of the Los Angeles Philharmonic, having held the same position with the Detroit Symphony for over a decade, as well as a stint as guest principal cellist for the Toronto Symphony Orchestra. His playing in both concertos – No.1 in C Major and No.2 in D Major – is strong and vibrant, with great agility and touch, especially in the long and often virtuosic first movement of the D-Major work.
Both works were written for cellists in the Esterhazy court orchestra, the C Major in the early 1760s (although not known to us until the discovery of a copy of the score in 1961) and the D Major some 20 years later for the cellist Antonín Kraft, a player noted for his beautiful singing tone, expressive phrasing and an explosive technique, especially in the cello's upper register. Qualities, indeed, displayed here by deMaine. The excellent and idiomatic cadenzas are by the soloist.
I'm not sure whether or not this is a re-issue: the recordings were made in the Czech Republic in September 2009, but are listed on deMaine's website as a projected release on the Sono Luminus label with a release date that is earlier than the recording dates. There's no mention of this current Leaf Music issue.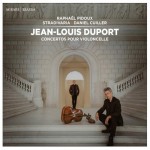 This is certainly a good month for cellists. The French cellist Raphaël Pidoux is the stellar soloist on Jean-Louis Duport Concertos pour Violoncelle, with the Stradivaria – Ensemble Baroque de Nantes under Daniel Cuiller (Mirare MIR394; mirare.fr).
The Duport brothers – Jean-Louis (1749-1819) and Jean-Pierre (1741-1818) – were both brilliant cello virtuosi in the late 18th and early 19th centuries. Jean-Pierre eventually pursued a career in the Prussian court, leaving Jean-Louis to take over his position in Paris where he eventually became more celebrated than his older brother. Sensing the dangers of the coming French Revolution in 1789, Jean-Louis followed his brother to Prussia, returning to Paris in 1806 where, despite being well-received and teaching at the Conservatoire, he never fully re-established himself. He remains little-known as a composer, although his Essay on the fingering of the violoncello and on the conduct of the bow, completed in 1806, was a seminal treatise on cello technique.
Duport's were the first French cello concertos; six are extant, of which three are presented here: No.1 in A Major; No.4 in E Minor; and No.5 in D Major. The first concerto predates 1789; the other two were apparently written while he was in Prussia. They are played here "according to the composer's wishes" with a string orchestra, horns and oboes being added for Nos. 4 and 5. All follow the same pattern, with a substantial and well-developed opening movement, a short slow movement and a virtuosic rondo finale.
These are really attractive works that bridge the gap between the late classical and early Romantic periods, their fast scales and arpeggios in thirds, sixths and octaves from the lowest to highest registers offering proof that the cello was already in a highly developed state as a solo instrument.
Pidoux plays a 1680 Gioffredo Cappa cello with a William Dodd bow from 1790/95, handling the technical challenges with grace and ease and always displaying a warm, bright tone. The idiomatic support from the Stradivaria ensemble is of the highest quality on an extremely satisfying CD.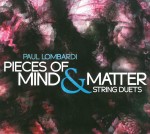 The American composer Paul Lombardi describes the five duets for strings on the CD Pieces of Mind & Matter – String Duets as chronicling a 13-year-long refinement of his compositional voice (Ravello RR8804; ravellorecords.com/catalog/rr8804). Presented in chronological order, they are: Holocene (2004) for violin and viola; Acquiesce (2006) for violin and cello; Persiguiéndose (2007) for two cellos; Phosphorescent (2008) for cello and double bass; and Fracture (2017) for two violins.
The performers – who vary from track to track – are Megan Holland, Roberta Arruda and David Felberg (violins); Kimberley Fredenburgh (viola); Joel Becktell, Lisa Collins and David Schepps (cellos); and Mark Tatum (bass).
The works are difficult to describe, although not difficult to listen to; Lombardi says that he likes to explore self-similar and recursive patterns. They're modernistic with some strong melodic lines, taut rhythms, dissonance, motivic structure and some interesting textures and harmonies. Overall they're strongly individual pieces, well-written and extremely well-played.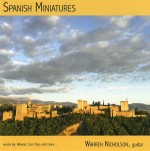 It's been five years since we saw a CD from the Canadian guitarist Warren Nicholson (his Latin American Guitar Favourites issued in September 2013) but he's back with Spanish Miniatures, a selection mostly of works by Fernando Sor, Francisco Tárrega and Isaac Albéniz (Independent WAN Records WANCD60918; warrennicholsonguitarist.com).
Federico Moreno Torroba's Madroňos opens the disc, followed by four Studies and two Lessons selected from Fernando Sor's Opp.6, 35, 44 and 60 works. Tárrega is represented by six works: his Preludes Nos.1 and 2; Lagrima; Maria; Adelita; and the famous Recuerdos de la Alhambra with its constant right hand tremolo.
Mallorca, Asturias and the Tango from Espaňa are the Albéniz selections, and the CD ends with two items from more recent but lesser-known composers: Waltz No.1 by Bartolomé Calatayud (1882-1973); and Cancion y Danza No.1 by Antonio Ruiz-Pipó (1934-1997).
The playing is again technically accomplished, clean and thoughtful. The only reservation I have – and one I had about his previous release as well – is that there is a tendency for the playing to come across as a bit too measured and carefully considered at times, with the result (in the Recuerdos in particular) that it can sound a bit pedestrian and fail to fully engage the listener.
Still, there's fine playing overall and much to admire here in a well-produced and nicely-presented CD.