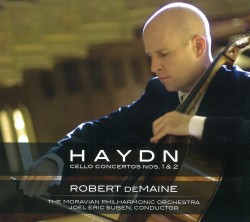 Haydn Cello Concertos Nos. 1 & 2
Robert deMaine; Joel Eric Suben; Moravian Philharmonic Orchestra
Leaf Music LM 222 (leaf-music.ca/product/lm222)
Listen
Cello Concerto No. 2 in D major H. 7b 2 Op. 101 1. Allegro moderato
Cello Concerto No. 2 in D major H. 7b 2 Op. 101 2. Adagio
Cello Concerto No. 2 in D major H. 7b 2 Op. 101 3. Rondo. Allegro
Read the Review
The following review is an excerpt from Strings Attached (March 2019) which can be read in its entirety here.
There's more outstanding cello playing on Haydn Cello Concertos Nos. 1 & 2 with the American cellist Robert deMaine and the Moravian Philharmonic Orchestra under Joel Eric Suben on Nova Scotia's Leaf Music label (LM 222; leaf-music.ca).
The soloist, an original member of the Ehnes Quartet, is principal cello of the Los Angeles Philharmonic, having held the same position with the Detroit Symphony for over a decade, as well as a stint as guest principal cellist for the Toronto Symphony Orchestra. His playing in both concertos – No.1 in C Major and No.2 in D Major – is strong and vibrant, with great agility and touch, especially in the long and often virtuosic first movement of the D-Major work.
Both works were written for cellists in the Esterhazy court orchestra, the C Major in the early 1760s (although not known to us until the discovery of a copy of the score in 1961) and the D Major some 20 years later for the cellist Antonín Kraft, a player noted for his beautiful singing tone, expressive phrasing and an explosive technique, especially in the cello's upper register. Qualities, indeed, displayed here by deMaine. The excellent and idiomatic cadenzas are by the soloist.
I'm not sure whether or not this is a re-issue: the recordings were made in the Czech Republic in September 2009, but are listed on deMaine's website as a projected release on the Sono Luminus label with a release date that is earlier than the recording dates. There's no mention of this current Leaf Music issue.