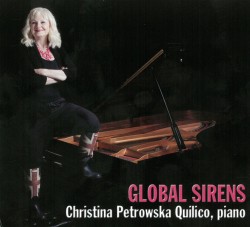 Global Sirens
Christina Petrowska Quilico
Fleur de Son FDS58046 (naxosdirect.com/items/global-sirens-473518)
Listen
Meredith Monk - Railroad Travel Song
Lili Boulanger - D'un vieux jardin
Tailleferre - Larghetto
Read the Review
The last Classical & Beyond beat column I wrote for The WholeNote (October 2013 issue) was titled "Let's Hear It for the Women!" Now, five years later, I am pleased to be reviewing Global Sirens, released last month by the exceptional (and exceptionally busy) Canadian pianist and educator, Christina Petrowska Quilico, and featuring works by 15 women composers, some known, most essentially neglected. Several were born around the turn of the last century; a few are still composing today.
As the title suggests, the 15 composers – I'm about to give them their due and name them all – hail from all over the globe: Germany (Ilse Fromm-Michaels, Else Schmitz-Gohr, Lotte Backes, Barbara Heller, Susanne Erding); France (Lili Boulanger, Cécile Chaminade, Germaine Tailleferre); Italy (Ada Gentile); Canada (Larysa Kuzmenko); USA (Meredith Monk, Adaline Shepherd); Australia (Peggy Glanville-Hicks); South Africa (Priaulx Rainer); and Russia (Sophie-Carmen Eckhardt-Gramatté, who lived in Winnipeg the last 20 years of her life). Some had fathers who forbade or discouraged their musical pursuits; others were expected to give up composing once married. And because her husband was Jewish, the Nazis banned performances of works by Fromm-Michaels.
Petrowska Quilico covers a lot of ground over the CD's 19 tracks, from Chaminade's rich and romantic Méditation and Schmitz-Gohr's lovely Elegie for the Left Hand to Backes' jazzy, Debussyesque Slow and Kuzmenko's haunting and evocative Mysterious Summer Night. And then there's Shepherd's delightful Wireless Rag, yup, an honest-to-goodness rag.
Let's hear it for Christina Petrowska Quilico, champion of women composers!
Buy Now
Email info@fleurdeson.com
Also available on amazon.ca, fleurdeson.com, Classical Music Online and naxos.com