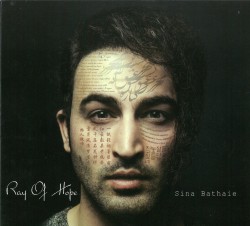 Ray of Hope
Sina Bathaie
sinabathaie.com
Review
The following review is an excerpt from Editor's Corner (October 2017) which can be read in its entirety here.
This month I've become aware of a local santur virtuoso, Sina Bathaie, who plays the Persian version of this intriguing instrument. Ray of Hope (sinabathaie.com) is a (mostly) instrumental album which blurs the borders between Middle Eastern and Western popular musics, combining the santur with guitar (Alexei Orechin or Nima Ahmadieh), bass guitar (Oriana Barbato or Semco Salehi), cello (Raphael Weinroth-Browne), percussion (Siavash Sadr Mahdavi) and guest appearances by drummer Adam Campbell and vocalist Alireza Mahdizadeh.
Bathaie's note tells us that the music is inspired by the verses of poems that "celebrate our timeless elusive pursuit for peace, hope and the most important of all these, love." The texts, in Farsi, Italian, Russian, Chinese, and Korean, are seen "tattooed" on Bathaie's face in the CD's cover image.
The disc begins with Rebirth, where a banjo-like bed track (shades of Appalachia) from santur, bass and percussion support a soaring melody from the cello. Ray of Hope opens ominously with the sound of jets, gunfire and sirens, overtaken by santur in both accompaniment and melody, gradually growing to include bass, drums and an electric guitar line that borders on feedback as it rises to a triumphant conclusion. Into the Sky brings back the cello in the lead role, in a quieter, but not subdued, flight. The disc progresses through Journey, Invocation (a solo for santur where we hear more clearly Bathaie's ability to play melody and accompaniment at the same time), I Remember, Dance of Delight (with its long, languid opening that eventually gives way to the ecstatic feeling suggested by the title), the only vocal track on the album Lullaby of Spring and finally Light Like a Feather, with Orechin's finger-style guitar setting the stage for a rousing finale.
I would like to say that Bathaie is one of Toronto's best kept secrets, but I have a feeling it is just the sheltered life I lead that makes me think so. I learned from his website that he has been featured on CBC radio Metro Morning and at festivals such as Luminato, In/Future, Small World Music, Mundial Montreal, Open Mind, Quiet Strings, South Asia Calling and at the Aga Khan Museum. Shame on me.
Concert note: Ray of Hope will be launched at a concert in the Lyric Theatre of the Toronto Centre for the Arts on October 13.