Review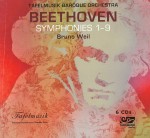 Last month saw the release of a compiliation of recordings of Beethoven – Symphonies 1-9 featuring Tafelmusik Baroque Orchestra and Chamber Choir under the direction of Bruno Weil (TMK1034CD tafelmusik.org). All of the symphonies, recorded live at the George Weston Recital Hall (Nos.5 & 6 in 2004, 7 & 8 in 2008, for Analekta) and Koerner Hall (Nos.3 & 4 in 2012, 1 & 2 in 2013 and No.9 in 2016 for Tafelmusik Media), have been previously available but are here collected in an attactively priced boxed-set. Here's what our reviewers had to say of the original releases:
Symphonies 1-4: Bruno Weil, a longtime collaborator with the orchestra, draws a finely articulated and transparent response from the rarely seen Tafelmusik podium. The performances of the first two symphonies, though rich in detail, seem to take their time to fully blossom. […] though it gradually becomes evident that Weil is a master of the slow burn […] with a pair of powerful and scintillating finales. The renderings of the Third and Fourth Symphonies can be recommended without qualification; both are superb throughout. Daniel Foley, June 2014
Symphonies 5 & 6: Tafelmusik […] seem ever confident of bringing a revitalizing touch to works we've known intimately for a lifetime […] The strings are sparse and largely straight-toned, revealing surprising hues of colour in the wind parts. After years of big romantic orchestra performances this sound is wonderfully new, especially in the second and third movement of the Sixth Symphony. Their fourth movement "storm" is delightfully bad weather, reminiscent of The Four Seasons and the finale offers a slightly slower tempo than usually heard but works well nevertheless. […] It's been a long time since Five and Six sounded so new. Alex Baran, May 2005.
Symphonies 7 & 8: Their bright and animated approach brings a breath of fresh air to these familiar pieces. David Olds, December 2008
Symphony No.9: Make no mistake – Tafelmusik sounds just as powerful as any contemporary symphony orchestra. It builds the momentum of the emotional narrative with conviction, starting from the solemn D-Minor theme of the first movement all the way to the jubilant ending of the fourth in D Major. Tafelmusik Chamber Choir and soloists – Sigrid Plundrich, Mary-Ellen Nesi, Colin Balzer and Simon Tischler – are all superb in bringing out the purity and drama of Beethoven's music. Ivana Popovic, October 2016.
So all in all, reviews are favourable and at $40 for the complete set this collection should not be missed. The booklet includes bilingual biographical notes, an appreciation by conductor Bruno Weil, reflections on the journey with Weil during the more than decade-long project by music director Jeanne Lamon and extensive program notes by Allen Whear. As Tafelmusik launches its first season under the direction of Elisa Citterio this release provides a fitting monument to the orchestra's first three decades under Lamon's guiding hand.
While I'm looking into the past through rose-coloured glasses, here's what I wrote about Toronto guitarist William Beauvais' suite Appalachian Colours – Gold; Red; Green; Blue from his Old Wood – New Seeds when I reviewed it back in June 2016. "...evidently inspired not by Copland's Appalachian Spring, but rather by that iconic American composer's orchestral suite Rodeo. From the contemplative opening movement through the lilting second and the lullaby-like third, our attention is held by the lush colours Beauvais draws from his instrument. The gently ebullient final movement, glistening like sunlight off the surface of a rippling lake, held me wrapped in its thrall from start to finish." In the program note in the version published by the Canadian Music Centre Beauvais says "This work is dedicated to Emma Rush, the very fine guitarist from Hamilton, Ontario, Canada. Upon discovering that we both had a great affection for Gerald Garcia's Esquisse 17 - Tournesol – I felt a certain comradeship."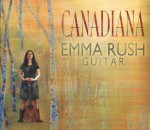 Now, just over a year later, we are presented with a performance by the dedicatee on Canadiana – Emma Rush, guitar (guitarhamilton.com), a disc supported in part by Hamilton's City Enrichment Fund. Rush tells us that the suite "uses a partial capo to provide a sense of open tuning, along with employing elements of finger-style guitar playing, bluegrass, and ragtime music." My initial impressions of Appalachian Colours remain unchanged with this new recording, which as you might expect from composed music does not differ much from the version presented by Beauvais. But Rush has obviously spent enough time with the luscious suite to make it her own. The tempos vary slightly, with the dreamlike opening movement just a bit slower and the tumbling finale a shade quicker.
The remainder of the disc is comprised of Floyd Turner arrangements of songs by iconic Canadian folk singer-songwriters Joni Mitchell (Blue and Marcie), Gordon Lightfoot (Pussywillows, Cat-tails and Canadian Railroad Trilogy) and Stan Rogers (Northwest Passage). All are beautifully crafted and masterfully performed, with Blue and the Trilogy being personal favourites. Rush's technique is flawless throughout, with no extraneous finger noise and much attention to nuance. My only complaint is that from this evidence one might conclude that all Canadian folk songs are dreamy or introspective, written in a slow to moderate tempo, with an almost lullaby feel. I would have enjoyed the inclusion of something a bit livelier, for instance Mitchell's Carey or Rogers' Watching the Apples Grow.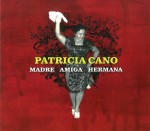 One of the most enjoyable theatrical experiences I've had in a long time was Tomson Highway's one-woman musical The (Post) Mistress last November at the Berkeley Street Theater. It featured Patricia Cano (patriciacano.com) who went on to win the Toronto Theatre Critics Award for Best Actress in a Musical. On October 4 at Lula Lounge Cano will launch her multilingual new CD Madre Amiga Hermana (Mother Friend Sister). While Highway's production was in French, English and Cree, in the current release the Sudbury-based Peruvian-Canadian adds the Spanish, and in one case (Terre Mère), Indigenous Quechua language, of her motherland. The overall mood of the CD is joyous, replete with samba rhythms, contemporary jazz and soul, plus a smattering of nostalgia and thoughtful ballads, culminating in the anthemic Woman on the Rise.
The welcoming opening track, Caminando, has a Spanish chorus and English verses telling a love story that culminates in the birth of a (we assume her) son, and the lines "I was so grateful for the fateful day back when / all the stars aligned and you and I / collided into love." This is followed by the French-language Juana Guerrière, "an honour song for my great grandmother…a beautiful strong and resilient woman of Afro-Peruvian descent." Over an infectious ostinato Cano tells the story of a decades' long courtship – resulting in seven children – with an unscrupulous white man who eventually turns out to be already married with six "legitimate" offspring. Mi Maru is a beautiful Spanish ballad written "to record my son's first words (water, owl, more, and his favourite word of all, 'caca')."
Featured prominently on the album is an awesome rhythm section comprised of longtime associates Kevin Barrett (guitar), Paco Luviano (bass), Luis Orbegoso (percussion and vocals) and Carlos Bernardo, a Paris-based Brazilian guitarist and composer. The booklet contains lyrics for the original songs – the three outlined above with words and music by Cano and six co-written with Orbegoso or Bernardo – although no translations are included except from the Quechua into Spanish. The two covers are the lyrical Bridges (Travessia) by Milton Nascimento (sung in English with words translated by Gene Lees from the original by Fernando Brant) and the gentle thanksgiving Gracias a la Vida by Violeta Parra (1917-1967), a Chilean composer, songwriter, folklorist, ethnomusicologist and visual artist.
Cano invites us on a beautiful, and personal, journey; she is a wonderful guide and a wondrous talent.
There are likely many instruments in this world with which I am unfamiliar, but now I can scratch santur off the list. Wikipedia – and yes I do make a small monthly donation to the Wikipedia Foundation – tells me that "The santur (also santūr, santour, santoor) is a hammered dulcimer of Persian/Iranic origins" and that the term originally meant "100 strings." I'm not sure that is meant literally, but the instrument does boast 18 bridges dividing a plethora of strings. I am more aware of the santur's European counterparts the cimbalom (Hungary) and the hackbrett (Germany and Austria) used in concert works by Kodály, Stravinsky, Boulez, Kurtág and Eötvös, and with its American cousin, simply named the hammered dulcimer, heard in Appalachian folk music.
Review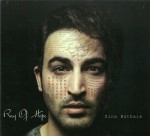 This month I've become aware of a local santur virtuoso, Sina Bathaie, who plays the Persian version of this intriguing instrument. Ray of Hope (sinabathaie.com) is a (mostly) instrumental album which blurs the borders between Middle Eastern and Western popular musics, combining the santur with guitar (Alexei Orechin or Nima Ahmadieh), bass guitar (Oriana Barbato or Semco Salehi), cello (Raphael Weinroth-Browne), percussion (Siavash Sadr Mahdavi) and guest appearances by drummer Adam Campbell and vocalist Alireza Mahdizadeh.
Bathaie's note tells us that the music is inspired by the verses of poems that "celebrate our timeless elusive pursuit for peace, hope and the most important of all these, love." The texts, in Farsi, Italian, Russian, Chinese, and Korean, are seen "tattooed" on Bathaie's face in the CD's cover image.
The disc begins with Rebirth, where a banjo-like bed track (shades of Appalachia) from santur, bass and percussion support a soaring melody from the cello. Ray of Hope opens ominously with the sound of jets, gunfire and sirens, overtaken by santur in both accompaniment and melody, gradually growing to include bass, drums and an electric guitar line that borders on feedback as it rises to a triumphant conclusion. Into the Sky brings back the cello in the lead role, in a quieter, but not subdued, flight. The disc progresses through Journey, Invocation (a solo for santur where we hear more clearly Bathaie's ability to play melody and accompaniment at the same time), I Remember, Dance of Delight (with its long, languid opening that eventually gives way to the ecstatic feeling suggested by the title), the only vocal track on the album Lullaby of Spring and finally Light Like a Feather, with Orechin's finger-style guitar setting the stage for a rousing finale.
I would like to say that Bathaie is one of Toronto's best kept secrets, but I have a feeling it is just the sheltered life I lead that makes me think so. I learned from his website that he has been featured on CBC radio Metro Morning and at festivals such as Luminato, In/Future, Small World Music, Mundial Montreal, Open Mind, Quiet Strings, South Asia Calling and at the Aga Khan Museum. Shame on me.
Do I have time for one quick guilty pleasure? I spent a marvelous evening a couple of weeks ago watching the DVD documentary included with the double CD DCX MMXXVI Live (Columbia 88985 46031 2), recorded during the Dixie Chicks' (DCX) 2016 tour that culminated at the Forum in Los Angeles where the video was shot. The nearly two-hour performance was received with near-hysteria by the 17,000 standing-room-only fans in attendance. I never experienced live Beatlemania but I can't imagine it would have been any more over-the-top than this. Whatever animosity garnered by DCX for their anti-war stance sparked by America's invasion of Iraq in 2003 seems to have been forgiven by their fans, at least the ones in this urban West Coast centre. Again resorting to Wikipedia, I note that "By December 2015, with 30.5 million certified albums sold, they had become the top selling all-female band and biggest-selling country group in the U.S."
It was an energized performance from the trio and their five-piece band, sometimes fully charged and wall-of-sound, but with some intimate moments – including touching personal stories from lead singer Natalie Maines about their progress from no children to nine kids between them over the past 15 years – and some acoustic tunes (if you can still call them acoustic when they are amplified to fill an amphitheatre). The repertoire spanned most of what we have come to expect from DCX, with a few surprises, including covers of Prince's Nothing Compares 2 U and (on the CD only) Thunderclap Newman's Something in the Air. A highlight for me was the bluegrass instrumental medley with just the trio, Emily Strayer on banjo and Martie Maguire on fiddle, and Maines simply keeping time on a bass drum. Boy, can this woman play! I refuse to be ashamed of my absolute enjoyment of their high-energy, but thoughtful, performance.
We welcome your feedback and invite submissions. CDs and comments should be sent to: DISCoveries, WholeNote Media Inc., The Centre for Social Innovation, 503 – 720 Bathurst St. Toronto ON M5S 2R4. We also encourage you to visit our website thewholenote.com where you can find enhanced reviews in the Listening Room with audio samples, upcoming performance details and direct links to performers, composers and record labels.
David Olds, DISCoveries Editor
discoveries@thewholenote.com