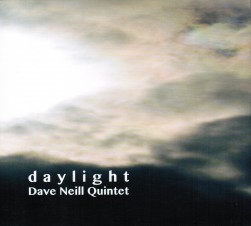 Daylight
David Neill
On the Fly Records OTF112844
The following is excerpted from Stuart Broomer's April 2015 Jazz, eh?
Review
Dave Neill
's
Daylight (On the Fly Records OTF112844, daveneill.ca)
is marked by his distinctive, warm, round sound, thoughtful solos and compositions, developing a reflective, almost orchestral sound with his quintet. He's used the same rhythm section since his 2008 debut, the fine combination of pianist David Braid, bassist Pat Collins and drummer Anthony Michelli, adding trombonist Terry Promane here. Neill has creatively shaped the session with four brief variations of his Thelonious Monk-like
The Day Savers
, played in duet with Braid and interspersed throughout the program. He also includes pieces by Promane and Braid, outstanding composers/arrangers of improvisation-friendly music. Braid's
Red Hero
is a powerful, elegiac work that matches the depth of Kenny Wheeler and Gil Evans, a distinctive tradition with a strong Canadian component.