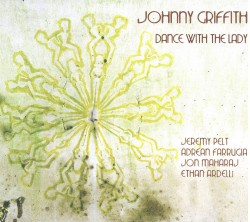 Dance with the Lady
Johnny Griffith
GB Records (johnnygriffith.com)
The following is excerpted from Stuart Broomer's April 2015 Jazz, eh?
Review
For all the similarities,
Johnny Griffith
sounds very different on
Dance with the Lady (GB Records johnnygriffith.com)
. He's a more kinetic player, far less deliberate, pushing toward a raw expressionist edge, showing affinities with John Coltrane and the ancestral energies of rhythm & blues. He shares the front line with trumpeter Jeremy Pelt, a star in the New York mainstream firmament. It can be risky, but it works here, with Pelt, pianist Adrean Ferrugia, bassist John Maharaj and drummer Ethan Ardelli making consistently lively, well executed music. The menacingly themed
The Kuleshascope
is a highlight, with Griffith pressing further and further out.