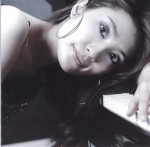 There's no shortage of forceful pianists in Montreal and one of the most promising on the A-list is South Korea-born Min Rager, whose First Steps (Effendi FND09 www.ragermusic.com) is very welcome five years after her sterling debut "Bright Road". The all-original ten-track mostly mainstream program sparkles from the start of the opening blues Nothing To Gain, Nothing To Lose, heartily aided by an equally A-list of sidemen that includes excellent trumpeter Kevin Dean, alto Donny Kennedy and drummer Andre White. The title-piece is a sneakily smart take on the Coltrane classic (Giant Steps of course) while other unabashedly modern tunes have a plethora of slithery solos, confidently delivered, that punctuate melodies and attractive harmonic structures. As well as offering slick counterpoint, Rager conjures filigree runs that sound entirely appropriate on Bella, a duo with Dean, followed by the even more arresting ballad Persistence Of Memory a trio take with Dean and American tenor Walt Weiskopf. Passing is a high-voltage burner, Dean scores again on Portrait Of Miles, with Goodbye Manhattan a passionate slow blues, just one gem in an illuminating set.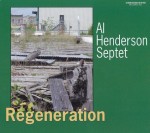 Bassist Al Henderson is a formidable bandleader (notably his quartet and quintet) and composer (notably his work with Time Warp and recasting Duke Ellington) so it's no surprise he's in ambitious mode on the Juno-nominated Al Henderson Septet - Regeneration (Cornerstone CRST CD 132 www.alhenderson.ca). He taxes his all-star companions with a 10-piece program anchored by a six-part suite inspired by the architectural vision of Raymond Moriyama, specifically his ideas for the Canadian War Museum. This in turn has led Henderson to muse on the nature of war and the result is a work of both quality and interest interpreted with some distinction by his team – hornmen Alex Dean and Pat LaBarbera, pianist Richard Whiteman, drummer Barry Romberg and a pair of cellists, Matt Brubeck and Mark Chambers. With a difficult set of ideas to convey, this nonetheless must be successful. There's other material here that nods to Inuit artist Turataga Ragee (Spirit Owl) and punta rocker Andy Palacio (Palacio) plus other tracks that offer chamber jazz, vaudeville and reflective passages.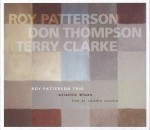 Toronto guitarist Roy Patterson is always worth hearing, a long-term member of the local string elite and an artist replete with driving notions and thriving imagination. He justifies this on Roy Patterson Trio – Atlantic Blues (Toronto Jazz Composers Collective TJCC AS 001 www.roypatterson.com). For this elegant eight-tune master class the leader is supported by ageless sidemen bass Don Thompson and drummer Terry Clarke for long workouts on a mix of standards and three Patterson tunes, a live session recorded at Zooma Zooma Café in Jordan Village on the Niagara Escarpment. The musical atmosphere is warm, subtle, sophisticated and intimate, ripe with creative ingenuity, and the threesome works as one unit with playing that's almost spiritual. Patterson's deft fingering keeps melodies intact and everything precise and detailed. His title tune is suitably broody, Water is freewheeling pleasure, the exotic sheen of Brazilian music comes through on Jobim's Favela, yet one gets the feeling that the guitarist is even more appealing when he casts off the unmistakable influence of Jim Hall. One question remains. Why is this Patterson's first album in eight years?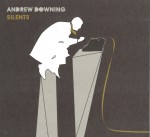 The prolific Andrew Downing, his reputation as bassist-bandleader-composer already established, takes a bold step with his newest album Silents (Black Hen Music BHCD-0058 www.andrewdowning.com). His fascination with silent movies has led to this examination by a dozen musicians of a pair of early 20th century films – horror masterpiece The Cabinet Of Doctor Caligari from 1920 by Germany's Robert Weine and the fantasy tale Impossible Voyage from 1904 by France's George Melies. Downing has created 18 tunes that pinpoint episodes in the films and the execution by the players – Downing forsaking bass for cello – is very satisfying. You'd love to be watching the plots unfold with this sophisticated music accompanying them, especially the 12 creepier pieces for Caligari, a tale wherein the evil doctor is exposed as a serial killer. Impossible Voyage is weird, narrating a trip by car, train and submarine by travellers who survive it all, even when the train reaches the sun! Among the players, clarinettist Quinsin Nachoff and bassoonist Peter Lutek stand out, while there's disciplined work from the strings, notably bassist Joe Phillips – but all should take a bow.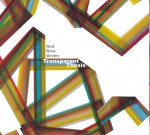 The group dubbed Red Blue Green offers a debut album of 11 originals where de facto leader – pianist Tom Richards – dominates action with playing that suggests he'd be comfortable in any musical niche. On Transparent Thesis (Pet Mantis Records PMR006 www.petmantisrecords.com) he has clearly digested diverse approaches and revels in dark compositions, shifting time signatures, switching from lyricism to abstraction and is fully in control though there's less jazz focus on occasion. He gets sympathetic backing from bass Andrew Pacheco and drummer Jay Sussman in what's free improv with an innate sense of structure. The trio is both thoughtful and adventurous, keeps jarring elements to a minimum, inserts classical influences and, importantly, play quieter than The Bad Plus. Best tunes: Song For Under A Bridge, Recovery and Lost Arrow.