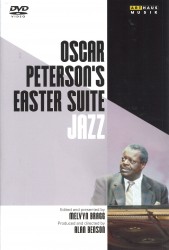 Oscar Peterson's Easter Suite
Oscar Peterson; Niels-Henning Orstedt Pedersen; Martin Brew
ArtHaus Musik 107 063
The music on this DVD was recorded in 1984 for London Weekend Television, commissioned by the BBC and broadcast on Good Friday, April 24, 1984. It is one of the least known compositions by Oscar Peterson, even though virtually all sources mention it as one of his major works. The eight movements follow the events related in the gospel story. Long-time associates, bassist Niels-Henning Orstedt Pedersen and drummer Martin Drew, accompany Peterson and, as might be expected, the playing is of an exceptionally high standard.
The DVD also features an interesting interview with Peterson in which he admits to an initial scepticism about interpreting such a topic in the medium of jazz and his relation to spiritual music. He also describes in detail the various motifs of the work and I recommend playing the interview before listening to the Suite
The passion and resurrection may seem surprising topics for a longer jazz work, but Oscar Peterson with his Easter Suite joins a number of significant other jazz greats — artists such as Mary Lou Williams, John Coltrane, Duke Ellington and Dave Brubeck introduced religious themes in their later works as a way of expressing their spiritual beliefs. But religion-inspired jazz has been around for some time. In fact one could present a case that there has been a connection right from the early days in New Orleans with the street parades and the interplay of musical and religious traditions.
The Easter Suite will make an interesting addition to your Peterson collection and we have to thank BBC for making it possible. It is hard to imagine an American network producing such an event.