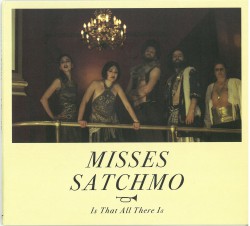 Is That All There Is
Misses Satchmo
Bros BROS11602 (missessatchmo.com)
In their third offering, this delightful Montreal-based quintet has released a project that literally drips with authenticity from "The Big Easy" and fully embraces the multi-cultural, Afro-Creole-Acadian-infused mojo that has made sultry New Orleans the musical crossroads of the world since the 17th century. This elegant ensemble presents a spicy étoufée of 13 sassy, eclectic tunes, embracing traditional spiritual material, as well as compositions from the great Louis Armstrong, the Gershwins, Fats Waller, early pop hit-makers Leiber and Stoller and more.
The tight and talented group includes the luminous Lysandre Champagne on trumpet and voice, Blanche Baillargeon on acoustic bass, Marton Maderspach on drums, Yvan Belleau on clarinet and saxophones, Jeff Moseley on guitar and banjo.
Following a brief guitar/whistle intro, the CD kicks off with a distinctly Depression-era medley of My Babe/Muddy Water, which features authentic front line drumming, call and response as well as sexy, unpretentious vocals. A standout is the Gershwins' It Ain't Necessarily So (written for the opera Porgy and Bess). All at once sweltering, swinging and sensual, this interpretation takes things to a fresh, contemporary stylistic level. Also charming is Why Don't You Do Right (J.J. McCoy) which is arranged with a stripped-down distillation that includes double bass stops and lovely marimba accents from Maderspach. The title track is certainly one of the strongest cuts on the CD – a savvy rendition of the Leiber and Stoller hit, Is That All There Is (made famous by Peggy Lee) which is enhanced not only by the spot-on, ironic, no-nonsense vocal, but also by the clever addition of slide guitar and theremin into the inspired arrangement.