Infinite Distances
Noah Haidu
Cellar Live CL080216 (cellarlive.com)
Masters Legacy Series Vol.1 – Emmet Cohen
Emmet Cohen featuring Jimmy Cobb
Cellar Live CL03161
Sapphire Birds
Maya Rae
Cellar Live CL10181
The Cellar, Vancouver's iconic jazz club, may have long-since closed and the hive of activity relocated to Coastal Jazz, but impresario Cory Weeds – the common denominator in it all – has retained executive producer privileges at Cellar Live. Virtually every month something resembling a gleaming gem (or three) pops up on the horizon. Here, for instance, are three such nuggets of plenty – two from American artists and one by a Canadian; or put another way, two featuring gifted pianists – Noah Haidu and Emmet Cohen – and one startling young songbird: Maya Rae. As is expected not a ray of daylight separates talent here. In the case of the pianists, styles may be disparate, but intellect and authentic pianism is of one piece. In Rae one is presented with the beckoning voice of a young woman that stands out in solitary splendour from among a crowded field.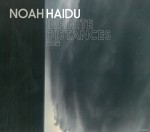 Noah Haidu's jazz abstraction is, not for nothing, called Infinite Distances and is presented in the form of a ten-piece suite of the same name. The title is borrowed from the German poet, Rainer Maria Rilke, who suggested: "Among the closest people there remain infinite distances." In keeping with this inspired Rilke quotation all of the songs included here reflect this profoundly meditative state of being for Haidu, who has also been touched, it would seem, by the mortal nature of humanity. Each of the miniatures in the suite is a beautiful heart-offering, poetically crafted and ornamented by the gifted pianist with an all-star ensemble featuring saxophonist Jon Irabagon, trumpeter Jeremy Pelt and bassist Peter Brendler.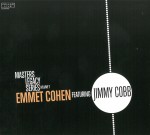 Pianist Emmet Cohen draws on the gifts of the virtuoso drumming and all-round erudite musicianship of Jimmy Cobb to bring his trio recording to fruition with the ubiquitous and supremely talented bassist Yasushi Nakamura. The album includes two quartet features with the vibrato-rich voice of alto saxophonist, Haitian-born Godwin Louis as musical doppelgänger. Cohen's playing is spry and his right-hand agility is wonderfully complemented by a genuinely expressive left hand punching out chords that recall the many-splendoured stride masters of a bygone era that still beg emulation. His breathtaking introduction to When I Fall in Love – easily the high point of the performance – beckons an ineffably delicate response from the legendary Jimmy Cobb on cymbals. A memorable performance from end to end.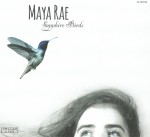 Maya Rae's disc must surely be a front-runner for many accolades to come. The Vancouver singer is an extraordinarily prodigious talent who is still barely 14 years old and who, even more incredibly, wrote the title track of Sapphire Birds when she was in fourth grade. It is impossible to overstate the genius of Rae who also displays maturity wildly beyond her years in So Caught Up. Showcasing those wondrous "vocalastic" skills, Rae turns up the heat in a fiery version of I Got Rhythm and then knocks it right out of the park with Summertime. There is ample evidence here that the world is Rae's to conquer. What a coup for Cellar Live to have her on board.