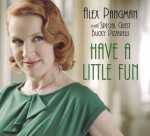 Have a Little Fun
Alex Pangman; Bucky Pizzarelli
Justin Time JTR 8578-2
It's difficult not to greet a new Alex Pangman record with a smile and sense of gratitude. The Toronto-based singer has suffered for years with cystic fibrosis and a few years ago, her health had deteriorated to the point where she didn't have the strength to stand up to sing. Then she received an organ donation and underwent a successful double lung transplant. For anyone, that is a major gift, but for a singer, it's nothing short of a miracle to be able to perform again.
Pangman has been going strong ever since and her latest CD Have a Little Fun is aptly named. Continuing in the style she has for years — covering music from the 20s, 30s and 40s — this CD has the added bonus of the éminence grise Bucky Pizzarelli. The American guitarist has played with many legendary musicians including Les Paul, Stéphane Grapelli and Benny Goodman, and his calm, collected rhythm playing is a steady presence throughout the record. Although the songs are mostly medium and up tempo and have a veneer of fun, the lyrics run the gamut of the human condition describing loss, yearning and regret along with happiness and good times. Along with standards like Stardust and I'm Confessin' are a few of Pangman's own compositions and one, It Felt So Good To Be So Bad, is a standout. And, really, who among us can't relate to that sentiment?