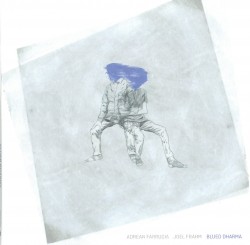 Blued Dharma
Adrean Farrugia; Joel Frahm
GB Records GBCD1804 (gbrecords.ca)
It was while on tour with drummer Ernesto Cervini's band in 2014 that the idea of recording a duo album emerged for Toronto-based pianist Adrean Farrugia and New York City-based saxophonist Joel Frahm. Fortunately for us, Blued Dharma, released last month, is the result of a splendid idea taken seriously and brought, beautifully, to fruition.
Farrugia and Frahm are masterful musicians and improvisers. And clearly, these two mutual fans and musical friends revel in playing together. Simpatico, musical connection, uncanny understanding, empathy – call it what you will – these two have it, and it permeates the CD. Of the album's eight tracks, five are originals by Farrugia – as insightful a composer as he is a pianist – two are utterly refreshing and intriguingly different turns on Roy Noble's Cherokee, and track five is Farrugia and Frahm's joyful jaunt through Kern and Hammerstein's Showboat classic, Nobody Else But Me; listen for the brief, playful nod to Over the Rainbow. The title track sounds like what you'd imagine something called Blued Dharma would: contemplative, expressive, deeply personal. The third track, For Murray Gold, is a heartaching ballad. If someone ever writes a piece of music for me, please let it be that gorgeous!
Farrugia and Frahm do not merely improvise. They complement, interact with, enhance, cajole, inspire, coax and charm each other. Blued Dharma is nothing short of magical. You, too, will be charmed.