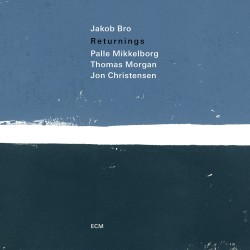 Returnings
Jakob Bro
ECM 2546 (ecmrecords.com)
Danish guitarist Jakob Bro appears here in a stellar quartet that includes two elders of Scandinavian jazz, trumpeter/flugelhornist Palle Mikkelborg and Norwegian drummer Jon Christensen. The result is a classic program in the Nordic school that ECM has perfected, a clear, spacious essay in spare melodies, nuanced emotions and subtle background shadings. While Christensen and American bassist Thomas Morgan supply optimum, empathetic foundations with subtle comments and suggestions only occasionally coming to the fore, much of the music feels like a close collaboration between Bro and the 77-year-old Mikkelborg, who composed and produced the orchestral suite Aura with Miles Davis in 1985 when Bro and Morgan were young children.
The profound affinity between guitarist and trumpeter even inflects their luminous timbres as well as their economy of line, Bro's electric guitar sound clarified to the point that it might be a brass instrument. Their empathy is apparent immediately in the opening tracks in which the two develop ballads with contrasting moods. The opening Oktober is pensive and introspective, foregrounding Mikkelborg's Harmon-muted trumpet, while Strands is pure reflection in pastoral hues. The title track provides contrast: it's a collaborative composition between Bro and Mikkelborg with an edge of metallic feedback to the guitar and an echoplex for the trumpet, summoning up something of Miles Davis' electric period. The concluding track, Mikkelborg's yearning Youth, restores the dominant texture.
While this description might suggest background music, the CD would likely prove too distractingly beautiful for that.