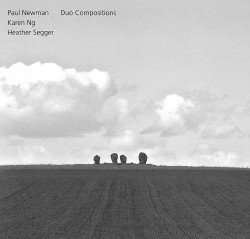 Paul Newman – Duo Compositions
Paul Newman; Karen Ng; Heather Segger
Independent (paulnewman1.bandcamp.com)
Paul Newman has already proved his credentials at the existential end of the saxophone. Now he turns that angst and all of his utterly brilliant compositional prowess to a pair of daring works for a set of duets – the first featuring his tenor saxophone with the alto of Karen Ng, entitled Strange Customs. The second piece (with Heather Segger's trombone replacing Ng's alto) is a furiously innovative one, its title taken from a poem by the quintessential artist, Dianne Korchynski. The music is as arresting as the title: When I Die, Who Will Be There to Count the Rings? While experimental music such as this can be more concerned with process than result, the fruits of Paul Newman's experiments – especially on Duo Compositions – are brave, gutsy and aurally fascinating. These duets could have been limited by the timbre of each instrument – a tenor and an alto saxophone and a trombone. But Newman's scores expand the consciousness of the improvising musicians. And you experience this throughout the recording.
These are endlessly fascinating pieces, their broad glissandos and darting arpeggios, products of the fertile imaginations of the improvising musicians, Ng and Segger. The language of Cage might seem to be spoken and sung; that and the gleeful dancing of Cecil Taylor, whose gymnastically inclined pianism appear to inform the improvisations. The scores suggest something equally original, both in the suggested "vocalastics" and instrumental mischief of saxophones and human smears of the trombone. These admirable performances make a worthwhile addition to any collection of music.