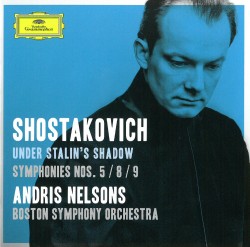 Shostakovich – Under Stalin's Shadow: Symphonies 5; 8; 9
Boston Symphony Orchestra; Andris Nelsons
Deutsche Grammophon 479 5201
Review
At various times during his illustrious career, Dimitri Shostakovich was roundly criticised for being either too close or too far from the Communist cause. However, when he died in 1975 there were very few who could deny that he was the last of the great composers whose qualities were acknowledged throughout the Western world in both the modernist and traditionalist camps. Indeed Shostakovich was celebrated as the finest composer of the 20th century. Even those who did not rate him quite so highly would argue that he was one of modern music's most fascinating characters. The idealistic Shostakovich spent his entire life under the Soviet system and believed that it was his responsibility to serve the state as an artist, and he settled down to composing "realist" music, albeit with a progressive edge.
Any performance of Shostakovich has to contend with the Leningrad Philharmonic Orchestra's iconic concerts, under the baton of Yevgeny Mravinsky, legendary for his incisive presentations bereft of sentimentality and strain. However Andris Nelsons' Symphonies Nos.5, 8 & 9 with the Boston Symphony Orchestra have a sublime technical polish. In the case of Symphony No.5, there is no doubting the sincerity of the performance or the dignity with which the desolate vision is communicated. The Scherzo will forever be remembered for its glorious flow. Nelsons' Symphony No.8 occupies the middle ground between the impassioned extremity of many Russian recordings and the sleek angst-free tones of many Western interpretations. His version is decidedly more intense, anguished and powerfully dramatic. The writing of Symphony No.9 has decidedly less of the daring precocity of Shostakovich's First or the anguished bitterness of his 15th Symphony. Nelsons' Ninth has all the characteristics that the master intended it to have including the marvellous tutti, finely honed themes and an almost celestial transparency and lightness.
The Suite from Hamlet is a masterpiece of rage and madness. Dramatized by Shostakovich in a daring musical exegesis of Shakespeare's best-known tragedy, it caps a most enduring performance of Shostakovich by the Boston Symphony Orchestra and Nelsons.