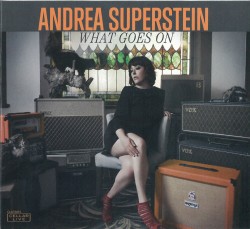 What Goes On
Andrea Superstein
Cellar Live CL073015 (andreasuperstein.com)
The young Montreal-born, Vancouver-based chanteuse faced a big challenge to improve on her stellar EP, Stars. With talent in spades, Andrea Superstein not only made great strides, but has slipped in a rather memorable sophomore album with What Goes On. Twice as long as Stars, this noirish album is replete with repertoire well-suited to her gorgeous, sultry and sensuous voice. If you want to know what exactly that means just listen to her take on Cole Porter's I Love Paris. Not only do you get a sense of what it is to breathe in the melancholy and crowded loneliness of crepuscular Paris, but you will also get a wonderful sense of the dramatic tension that Superstein can bring to a song that has been done over and over again. And if you thought that no vocalist could ever bring anything new to a classic, think again.
Superstein sings in beautifully shaded dialogue with her accompanists, often slipping into blissfully exquisite murmurs and slanted whispers, singing seductively as she conveys a lover's infatuation, a wounded partner and an ecstatic bride. Her vocal slurs punctuate clipped and long, loping lines. At her flippant best she can resemble a gazelle gone delightfully crazy as she catches the scent of rain. Her extroverted personality is wonderfully geared to maximize her storytelling ability as well the stylish declamation of poetry in song.