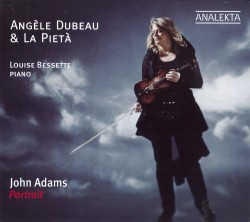 By his own admission American composer John Adams, star of the recent TSO New Creations Festival, is hard to classify. Given his large output, the three works on John Adams - Portrait, the latest CD from Angèle Dubeau and La Pietà (Analekta AN 2 8732), won't really help you in that regard, despite the CD's title. This is the group's third 'portrait' CD, following discs dedicated to Philip Glass and Arvo Pärt, but there is little of Adams' range on display here. Shaker Loops, for string septet, is an early work from 1978 with echoes of Steve Reich, but with more going on and some interesting textures. The other works are only a year apart, and over 15 years old. Road Moves for violin and piano (with Louise Bessette) is from 1995, and closer to the Adams of the Short Ride in a Fast Machine style. John's Book of Alleged Dances for string quartet, from 1994, is a set of dances that can be played in whole or in part, and in any order. Six of the ten dances – the ones selected for this CD - are accompanied by a recorded track of percussion noises produced on a prepared piano. The booklet notes inform us that "except for a few excerpts, the dances are played here with a double quartet, adding considerably to the challenge of performing the work." Nobody says why. Recorded at McGill's Schulich School of Music, the performance and sound quality are top notch.
The Deutsche Grammophon debut CD by the Georgian violinist Lisa Batiashvili, Echoes of Time (DGG 477 9299) is her selection of works by composers whose artistic lives were impacted by the Soviet regime, and it's a real winner. At its core is the Shostakovich Violin Concerto No.1, and it's worth the price of the CD on its own. Whatever the truth of the composer's apparent compliance with the regime, there is no music from the 20th century that is more painfully personal than that of Shostakovich: listening to this deeply moving performance made me feel almost uncomfortable, as if intruding on someone's most intimate thoughts. The contribution of the Symphonieorchester des Bayerischen Rundfunks under Esa-Pekka Salonen is outstanding. Nothing else on the disc really measures up after that, but it's still terrific playing. Giya Kancheli's V&V, for violin and taped voice with string orchestra, and Shostakovich's Lyrical Waltz (orchestrated by Batiashvili's father) are paired with Arvo Pärt's Spiegel im Spiegel and Rachmaninov's Vocalise, Batiashvili being joined by the excellent Hélène Grimaud on piano.
Chances are you may know the name of Erwin Schulhoff but not his music; I was unaware of his violin works before hearing the excellent CD of his Violin Sonatas by Tanja Becker-Bender and Markus Bender (Hyperion CDA67833). Schulhoff, who was in his late 40s when he died of tuberculosis in a Nazi concentration camp in 1942, was a student of Reger and of Brahms' close friend Fritz Steinbach, and the influence shows in his early Suite Op.1, a finely crafted and strongly tonal work from 1911. Within two years, however, Schulhoff had discovered the music of Debussy, and the harmonic language in his Sonata No.1, Op.7 is far more sophisticated. The other two works on the CD are from 1927. The Sonata for Solo Violin is a stunning work with a dazzling first movement, a lyrical but highly chromatic slow movement, and third and fourth movements strongly reminiscent of Bartok, whose influence is also heard in the Sonata No.2 for violin and piano. The playing and sound quality throughout are of the highest order. A terrific disc.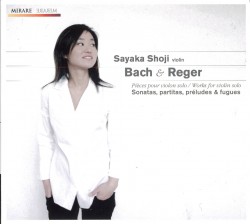 I've never quite understood the lack of interest in the music of Max Reger. Outside his native Germany he is still misunderstood and rarely heard, usually being regarded as some turgid, chromatic hybrid of Brahms and Mahler. A brilliant organist, Reger revered Bach, taking him as a model, and his life-long obsession with the fugue is reflected in the huge amount of music he wrote for organ and for solo violin. The Japanese violinist Sayaka Shoji has produced a fascinating 2-CD set (Mirare MIR 128) which pairs three of Reger's Preludes & Fugues from his Op.117, written between 1909 and 1912, with three of the Bach Sonatas & Partitas: the Sonata No.1 in G minor; the Partita No.1 in B minor; and the Partita No.2 in D minor. Shoji has a full, warm sound, and is recorded with a good deal of resonance but great clarity. Her technique is superb, and her interpretation quite captivating: with its understated dynamics, the great D minor Chaconne makes an almost introspective ending to a fascinating look at how musical influences can reach across the centuries. In fact, hearing these works side by side makes you realize just how chromatic and stunningly 'modern' Bach's harmonic structures really were.
Hyperion's latest addition to their series The Romantic Violin Concerto – Volume 10 (Hyperion CDA67838) – features works by two composers who are completely new to me, and three works that will be new to almost everyone. Frederic d'Erlanger (1868-1943) was born in France to a German father and American mother, and moved to London in his teens, eventually becoming a naturalized British citizen and a prominent figure in the London musical scene. He composed regularly, though not profusely, throughout his life, and his compositions were performed by the leading artists of the day. His Violin Concerto in D minor, Op.17, dates from 1902, and over the next 20 years was played by Kreisler and by the great English violinist Albert Sammons. It is very much in the Brahms/Bruch mould, beautifully scored, and with a very lovely slow movement. His Poème started life in 1918 as a work for violin and piano, and was orchestrated by d'Erlanger in 1926. The soloist for the premiere of the orchestral version in 1928 was the famous viola player William Primrose. Again, it's lovely stuff: fresh, warm, melodic, and beautifully orchestrated. The Yorkshire-born Frederic Cliffe (1857-1931) is a classic example of the late Victorian minor English composers who were swept away and rendered irrelevant by the 20th century. He burst on to the scene at the age of 31 – apparently with no previous compositional accomplishments to his name - with a highly successful symphony, produced a handful of major works, and disappeared again within 20 years. His Violin Concerto was written in 1896 for the Norwich Festival, but after only a handful of performances it remained un-played for 90 years. It's an attractive and competent work, but nowhere near as convincing as the d'Erlanger, feeling more episodic and somewhat disjointed, especially in the slow movement. The violinist who revived it, Philippe Graffin, is the soloist on this excellent CD, and it's difficult to imagine a more appropriate and sympathetic interpreter. His playing is effortlessly beautiful, and stylistically perfect. The BBC National Orchestra of Wales under David Lloyd-Jones is his equal in all respects. It's easy to see why this music disappeared – after all, it's only a dozen years or so before Schoenberg's atonality and Stravinsky's Rite of Spring changed the playing field for ever – but it's also easy to appreciate its appeal. It's an absolutely fascinating sample of English music in the late Victorian and Edwardian eras.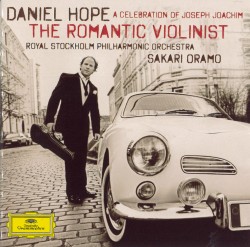 On The Romantic Violinist – A Celebration of Joseph Joachim (DGG 477 9301), Daniel Hope presents a programme of works created for and by the man whose influence dominated the violin world in the second half of the 19th century. The major work is a beautifully considered, warm and intelligent reading of the Bruch G minor concerto, with the Royal Stockholm Philharmonic Orchestra under Sakari Oramo. The nine shorter pieces have varied accompaniment: Dvorak's Serenade and Joachim's own Notturno are with orchestra; Brahms' Hungarian Dances Nos.1 and 5 are for violin and strings; Clara Schumann's Romanze, Joachim's piece with the same title, Brahms' Scherzo from the F-A-E Sonata and Schubert's Auf dem Wasser zu singen feature piano accompaniment by Sebastian Knauer. Hope switches to viola for the Brahms Geistliches Wiegenlied, where he is joined by mezzo-soprano Anne-Sofie von Otter and pianist Bengt Forsberg. For this CD, he tells us in the booklet notes, "I borrowed a viola and taught myself to play it." Must be nice!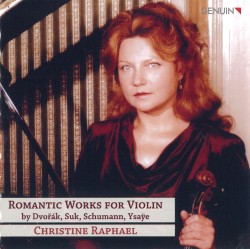 GENUIN has released a CD of Romantic Works for Violin (GEN 10535) featuring the German violinist Christine Raphael, who died 3 years ago in her mid-60s. The Dvorak concerto and two pieces for violin and string orchestra by Ysaÿe are coupled with two selections with piano accompaniment: Suk's Four Pieces Op.17 and Schumann's Three Romances Op.94. Recorded between 1977 and 1985, apparently for German radio broadcasts, this is a good testament to a solid, if unspectacular, player.