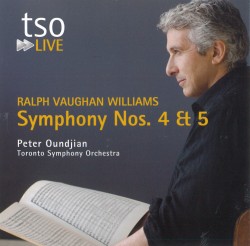 Vaughan Williams - Symphony Nos. 4 & 5
Toronto Symphony Orchestra; Peter Oundjian
TSO Live (www.tso.ca)
If you think of Vaughan Williams only in terms of English folk song and church music, listen to this recording! Compelling live performances of the fourth and fifth symphonies by Peter Oundjian and the Toronto Symphony Orchestra reveal the composer's wide range and continuing relevance. The Fourth is the darker of the pair, its semitonal theme generating dissonance and tension throughout. At numerous points the interlacing motifs and the accumulating contrapuntal weave create tremendous energy, which Oundjian captures without sacrificing clarity or losing the long view. He maintains the lyricism of the first movement's second theme, and consistently brings out expressive moments within the overall turbulence. Contrasts are handled effectively, for example in the uneasy peace of that movement's coda or in the quiet section before the finale's climax. I like especially the slow movement, with its walking bass line and sense of a bleak journey towards a lonely close, which Oundjian paces perfectly.
Symphony No.5 shows a brighter side of Vaughan Williams. In the first movement rich textures and tone colours evoke a natural setting, but overall the personal exceeds the pastoral. Incorporating material from a planned opera based on Bunyan's The Pilgrim's Progress, the work to me is suffused with integrity and spirituality. Handling transitions and their changes of dynamics, tempo and mood especially well, Oundjian indeed conveys the striving, committed voice of Vaughan Williams.