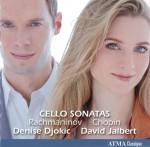 Cello sonatas, featuring the G minor sonatas by Rachmaninov and Chopin, is the outstanding new release by the Canadian duo of cellist Denise Djokic and pianist David Jalbert on the ATMA Classique label (ACD22525).
The Rachmaninov Sonata Op.19 is a relatively early work, written at the same time as his Second Piano Concerto and at the end of a three-year period of depression caused by the failure of his First Symphony. It's a marvellous work, melancholy at times, but passionate and virtuosic, and full of those typical Rachmaninov melodies.
When Chopin wrote his Op.65 sonata in 1846, his health was failing and his affair with the writer George Sand was coming to an end; three years later he would be dead. Listening to it back-to-back with the Rachmaninov, it's quite striking how similar their moods are at times; despite the gap of over 50 years between them, they seem to be soulmates.
The final track on the CD is Rachmaninov's Vocalise, written in 1915 following the deaths of the composer's friends and colleagues Sergei Taneyev and Alexander Scriabin. The transcription is by Leonard Rose. Not surprisingly, it's no mere afterthought but a perfect fit with the two major works.
Djokic is in tremendous form throughout the disc, as is Jalbert, a top soloist in his own right — in fact, you only have to look at the composers' names to realize how demanding and virtuosic the piano writing will be. The instrumental sound is warm and vibrant, and the interpretation everything you could ask for.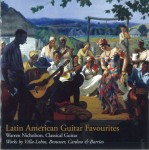 Toronto-based guitarist Warren Nicholson is a graduate of Hamilton's McMaster University and the Manhattan School of Music, and made his solo debut at New York's Weill Recital Hall in 1998. He has been active as a teacher and performer ever since, but Latin American Guitar Favourites (warrennicholsonguitar.com) is his debut CD. It features works by two early 20th century South American guitar masters, together with works by two contemporary Latin composers.
The program opens with the Cinq Préludes by the Brazilian Heitor Villa-Lobos, followed by four pieces by Cuba's Leo Brouwer: his Dos aires populares Cubanos and Dos temas populares Cubanos. Milonga, by the Argentinian Jorge Cardoso, and five pieces by the Paraguayan Agustín Barrios Mangoré complete the recital. In the final track, Una limosna por el amor de Dios, Nicholson displays a fine control of right-hand tremolo.
The playing throughout is accurate, clean and thoughtful, although perhaps a little too reserved at times. The guitar tone is lovely and the recorded sound is warm and clear.
There is, unfortunately, no information at all regarding recording dates or location, and there are no timings for the individual tracks; the CD clocks in at just under 50 minutes.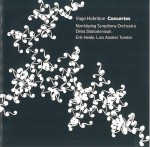 There is another excellent release from the Danish national label, Dacapo Records, this time featuring Concertos by the Danish composer Vagn Holmboe (6.220599). Holmboe, who was 86 when he died in 1996, produced an enormous number of strongly tonal compositions, many of which have inevitably been overlooked. The three highly accessible works on this CD are all world premiere recordings, and one — the Concerto for Orchestra (1929) — is believed to be a world premiere performance as well.
Lars Anders Tomter is the soloist in the Concerto for Viola Op.189 from 1992. Written for Rivka Golani, it's a work which immediately shows strength and personality. Violinist Erik Heide performs the Concerto for Violin No.2, Op.139 from 1979, although the number is somewhat misleading; there is an earlier violin concerto from 1938 that carries the designation No.1 but has never been performed, and this current work is apparently regarded as "the" violin concerto. Again, it's a two-movement work, with hints of Samuel Barber as well as Carl Nielsen, especially in the beautiful slow movement.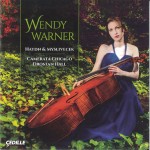 Dima Slobodeniouk conducts the Norrköping Symphony Orchestra in the concertos, and the orchestra takes centre stage for the Concerto for Orchestra, a single-movement work from 1929 that has apparently never been performed. It's a very attractive piece, quite heavy on brass and percussion, and again with distinct hints of Nielsen, who was the examiner when Holmboe auditioned for the Royal Danish Academy of Music, and who clearly influenced the young composer's early works.
Cellist Wendy Warner adds to an already impressive discography with a CD of the two Cello Concertos of Joseph Haydn, paired with the Cello Concerto In C major by Josef Mysliveček (Cedille CDR 90000 142). Drostan Hall leads Camerata Chicago in excellent orchestral support.
The Haydn concertos are relatively recent additions to the cello repertoire, the C major work having been discovered and first performed in the early 1960s. The D major concerto was long believed to have been written by Anton Kraft, a cellist with Haydn`s Esterhazy orchestra, until Haydn`s original score was discovered in the 1950s. The virtuosic cadenzas here are by Maurice Gendron and Emanuel Feuermann.
Mysliveček was a contemporary and acquaintance of Mozart, and known at the time mostly for his operas and concertos. His cello concerto is actually a transcription of one of his violin concertos and features a good deal of playing in the higher register.
Warner is a simply marvellous player, with great tone, lovely phrasing, and agility and technique to burn. She effortlessly holds our attention throughout a simply dazzling and delightful CD.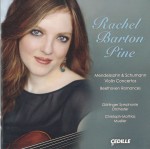 There is more thoughtful and intelligent playing of the highest order on Mendelssohn & Schumann Violin Concertos, where violinist Rachel Barton Pine is joined by the Göttinger Symphonie Orchester under Christoph-Mathias Mueller (Cedille CDR 90000 144). The two Beethoven Romances are also included.
It sometimes seems that there can't be anything left for a soloist to say with the Mendelssohn, but Barton Pine would doubtless disagree; "The older I get," she says, "The more difficult this 'easier' concerto becomes." Her approach here is sensitive and low-key, but no less effective for that. It's thoughtful playing with a light touch, and with tempi that are kept moving; no time for wallowing in sentiment here, but no lack of feeling either.
The Schumann concerto has had a troubled history. Written shortly before Schumann's 1854 suicide attempt that led to his entering the sanatorium in which he would die two years later, it was never fine-tuned to the composer's satisfaction, and was suppressed by its dedicatee, Joseph Joachim, not long after Schumann's death. It resurfaced in Germany in the 1930s due primarily to the efforts of violinists Jelly d'Arányi and Yehudi Menuhin, but plans for a premiere were hijacked by the Nazis, who hoped to promote it at the expense of the Mendelssohn concerto, with its Jewish connection. The concerto has its technical problems, in particular an exceptionally difficult solo part in the last movement which makes an ideal tempo almost impossible, but it has a particularly beautiful slow movement. Mueller was responsible for Barton Pine's deciding to record the work, and the soloist has done her work here, making judicious changes where she felt necessary; in particular, she and Mueller make the final movement work extremely well.
The performances of the Beethoven F major and G major Romances follow the approach set in the Mendelssohn, with a clear tone, slow and spare vibrato and a nice sense of movement.
Barton Pine's own extensive and excellent booklet notes contribute to another top-notch Cedille issue.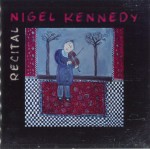 I must admit to having approached the latest Nigel Kennedy CD, Recital (Sony 88765447272) with a great deal of trepidation. Kennedy's huge talent has never been in doubt, but he has often been a lightning rod for controversy; some of his career choices have been – well, a bit puzzling, to put it mildly. In particular, his crossover rock/jazz CD projects have been wildly erratic, and at times almost inexplicably bad.
"Music inspired by Fats Waller, J .S. Bach, Dave Brubeck and more…" says the sticker on the front of the jewel case, and perhaps that's the clue to why this particular CD is such an overwhelming success: the standard of the basic material is much higher than on some of Kennedy's other projects, particularly the Polish ones. It's also music which Kennedy says he has either grown up with or feels as if he has grown up with, so there is clearly a strong affinity with the material.
There are four Waller numbers here, and one Brubeck – Take Five, of course – plus numbers by Ze Gomez and Yaron Stavi and two originals by Kennedy himself. The Bach tracks were inspired by the Allegro from the Sonata No.2 in A minor for Solo Violin and the first movement of the Concerto in D minor for Two Violins.
Kennedy is joined by Rolf Bussalb on guitar, Yaron Stavi on bass, Krysztof Dziedzic on drum (singular, note) and Barbara Dziewiecka on second violin and viola on selected tracks.
Kennedy is not the greatest of jazz violinists, but his playing on this disc is very sophisticated, very original and highly entertaining. He uses his enormous technical skills to great effect, creating a quite different sound to most jazz players. Even in the standards he "shreds" in places – and it works! The Fats Waller tracks in particular are simply terrific, and the takes on Bach are a real blast.
The sense of freedom – and of fun – is obvious throughout the disc, with group laughter clearly audible on some of the tracks. This is Kennedy being Kennedy at his best: sounding like no one else, having a ball, and making terrific music. The entire CD is an absolute delight, and a real winner.