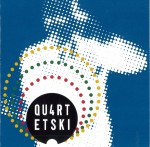 Quartetski Does Stravinsky
Quartetski
Ambiances Magnétiques AM 213 actuellecd.com
Jazz and modernism both erupted in the early 20th century, and the lines of concordance are many, including the polyrhythms of jazz in Igor Stravinsky's masterpiece of primordial impulses, Le Sacre du printemps. Its opening melody has been referenced by jazz musicians such as Carla Bley, Rahsaan Roland Kirk and Ornette Coleman. Celebrating the work's 100th anniversary, Montreal's transformative Quartetski Does Stravinsky, follows a loose and reduced score while interpolating and overlaying improvisations either anarchic or folk-inspired. The instrumentation is constructed for maximum chronological association, leaping from the sound of a medieval consort with founder Pierre-Yves Martel's viola de gamba, Phillippe Lauzier's bass clarinet, Isaiah Ceccarelli's percussion and Josh Zubot's violin to guitarist Bernard Falaise's very electronic approach. Alternately homage and deconstruction, it's a fearless work, casting Stravinsky's masterwork in a new light — at once more intimate, flexible and playful.