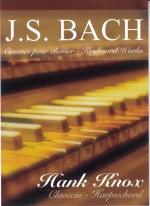 Bach – Keyboard Works
Hank Knox
EMCCD-7775
earlymusic.com
It took performers like Wanda Landowska — and more recently, William Christie and Kenneth Gilbert — to take the harpsichord out of the museum and put it into the concert hall or the recording studio. Among the instrument's most recent champions is the Montreal-based performer and pedagogue Hank Knox, whose talents are admirably showcased on this recording on the earlymusic.com label featuring selected works by J.S. Bach.
Early keyboard instruments have been a big part of Knox's life for many years. He studied harpsichord with Kenneth Gilbert in Paris and also at McGill University, where he currently directs the Early Music program. A founding member of the Arion Ensemble, Knox has also performed, toured and recorded with the Tafelmusik Baroque Ensemble and the Studio musique ancienne de Montréal, and this newest release is further evidence of his deep affinity for music from this period.
What a wonderful program this is! The disc features some of Bach's most formidable works for solo keyboard, including the Toccata in E minor, the great Chromatic Fantasy and Fugue, the Fantasia in C minor and the French Overture BWV831. From the opening chords of the Toccata, it's clear to the listener that Knox is in full command of this repertoire, the playing confident and self assured. The challenging Chromatic Fantasy — a true "tour de force" among Bach's solo compositions — displays not only his redoubtable technique, but also a deeply-rooted musicality.
Published in Leipzig in 1735, the Overture in the French Manner was undoubtedly Bach's way of transferring the French orchestral suite to the keyboard. Knox has no difficulty in conveying the subtle nuances required of the music, from the stately "Ouverture" to the brisk "Echo," bringing this most satisfying disc to a close.