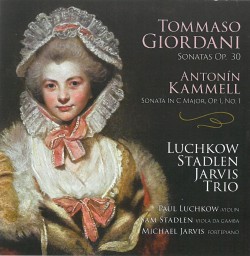 Tommaso Giordani – Sonatas Op.30; Antonin Kammell – Sonata in D Major
Luchkow-Stadlen-Jarvis Trio
Marquis Classics MAR 81495 (marquisclassics.com)
The viola da gamba's persistence in late-18th-century England owed something to the aristocracy. It appears that Lady Lavinia Spencer (1762-1831) was the gamba-playing dedicatee of this CD's Giordani sonatas, and yes, she is a direct ancestor of the late Princess Diana Spencer and sons William and Harry! From a musical standpoint gamba players could by then hold an equal role in sonatas for violin, viola da gamba and fortepiano, such as the Three Sonatas, Op. 30 (published c.1782) by Naples-born, later Ireland-based, Tommasso Giordani (c.1738-1806). The textures Giordani achieves through familiarity with the gamba's high register liberated the instrument from bass-playing, allowing imitation and echoing between instruments and octave doubling of melody in the violin and gamba, for example in the opening movement of Sonata No.2 in D Major. I find this to be the best of the sonatas, with a particularly fine slow movement; Giordani was a natural melodist whose use of contrasting minor keys and quiet fortepiano solos is notable. His active gamba part in the finale illustrates the instrument's development towards virtuosity.
The Canadian Luchkow-Stadlen-Jarvis Trio is convincing, with clean solo and ensemble playing free of affectation, with attractive tone and balance, and expressive inflections in the slow movements. And although the Sonata in C Major, Op.1, No.1 by Czech composer Antonin Kammell (1730-1785) that ends this disc has other requirements – ornamentation, accentuation and hairpin crescendos – they meet those demands equally well.