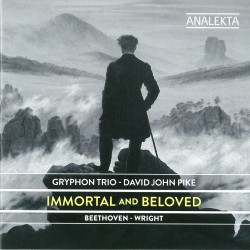 Immortal and Beloved
Gryphon Trio
Analekta AN 2 9522 (analekta.com/en)
Shortly after Beethoven's death, three letters to "meine unsterbliche Geliebte" (my immortal beloved), dated July 6/7 (1812), were discovered among his effects. Speculation about her identity has since abounded, with numerous suggested candidates. A 1994 British movie, Immortal Beloved, even portrayed her, absurdly, as his sister-in-law! Recent attention has focused on Countess Josephine von Brunswick, the secret dedicatee of Beethoven's piano piece Andante favori.
Carleton University professor James Wright (b.1959) has rearranged excerpts from the letters to compose a moving, memorable 15-minute cycle of three songs, Briefe an die unsterbliche Geliebte (Letters to the Immortal Beloved) (2012), quoting the opening of the Andante favori near the end of the third song. Canadian baritone David John Pike, accompanied by the Gryphon Trio, effectively expresses the hyper-emotional words of Beethoven's desperate longing. These beautiful, heartfelt songs should be welcomed into the lieder repertoire, perhaps in a version for voice and piano alone.
Pike, accompanied by Gryphon pianist Jamie Parker, also contributes a sensitive performance of Beethoven's song-cycle An die ferne Geliebte (To the Distant Beloved), another outpouring of longing for an absent lover.
Filling 40 of this CD's 70 minutes is the Gryphon Trio's exuberant 2008 recording of Beethoven's Archduke Trio, needlessly reissued while still available on Analekta AN 2 9858. Surely, music not yet in the discographies of Wright, Pike or the Gryphon Trio would have been preferable.
Nonetheless, Wright's fervent song cycle definitely deserves repeated hearings. Texts and translations are included.