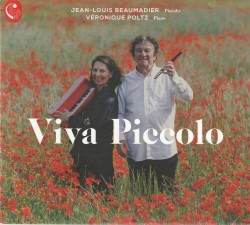 Viva Piccolo
Jean-Louis Beaumadier; Véronique Poltz
Calliope-indeSENS CAL22104 (indesensdigital.fr/?s=viva+piccolo)
The cover photo of the artists, incongruously standing in a field of poppies, Beaumadier holding his flauto piccolo in front of his left shoulder and Poltz with her bright red Schroeder-esque "pianoforte piccolo" resting on her right shoulder, suggests the spirit of fun lying behind this recording. The wildly varied repertoire indicates that there are no limits to where the fun can be had or to the capabilities of these highly accomplished musicians!
The opening tracks, Four Hungarian Dances by Brahms for example, sound so right that you could assume that they had been written by the composer himself! The fifth track, Théobald Boehm's Capriccio 16, Op.26, a study for flute students, has been transformed into a charming recital piece, with the piano accompaniment composed by Poltz herself, as is the piano part of Joachim Andersen's Moto Perpetuo. Beaumadier's virtuosity in this is staggering, as it is in Benjamin Godard's Valse, the third movement of his Suite of Three Pieces, Op.116.
The great French flutist, Philippe Gaubert, carried the French School of flute playing into the 20th century not only through his students, most notably Marcel Moyse, but also through his compositionsrepresented on this disc by Deux Esquisses. Beaumadier plays these elegiac soliloquies with a tenderness that reveals both another side of his artistry and the capabilities of his instrument.
This is a most engaging recording, to be recommended to all flutists and everyone else interested in expanding their musical horizons.