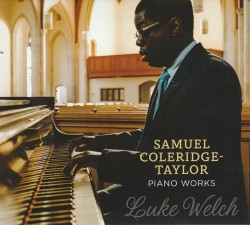 Samuel Coleridge-Taylor – Piano Works
Luke Welch
Independent (lukewelch.ca)
Samuel Coleridge-Taylor occupies an interesting place in British musical history. Born in 1875 to an Englishwoman and a Krio man from Sierra Leone who had studied medicine in London, he attended the Royal College of Music where he studied composition with Charles Villiers Stanford. By the 1890s, he was earning a reputation as a composer greatly helped by Edward Elgar – and his piece Hiawatha's Wedding Feast premiered by Stanford in 1898, firmly secured his stature.
Included among Coleridge-Taylor's extensive output are a number of compositions for piano and many of these are presented here on this recording performed by Toronto pianist Luke Welch. The disc is a delight!
It opens with the five-movement Scenes from an Imaginary Ballet Op.74 (written in 1910) which immediately demonstrates Coleridge-Taylor's affable and melodic style. These sprightly miniatures with their well-crafted phrases and inherent lyricism attest to their timeliness, as engaging today as they were a century ago.
The charming Three Humoresques Op.31 which follow are each slightly lengthier than the other compositions on the disc and demonstrate an intriguing use of harmony and chordal progressions. Throughout, Welch delivers a poised and elegant performance in keeping with the spirit of the music.
What is particularly appealing in this collection is the range of contrasting moods – for example, Intermezzo is a brief essay in pomp and ceremony while Papillon is all light-hearted exuberance demanding considerable technical skill from the performer. The Valse Suite Three Fours Op.71 from 1909 rounds out a most satisfying program.
Kudos to Mr. Welch for not only a fine performance, but also for bringing to light music that decidedly deserves greater recognition.