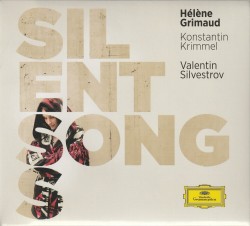 Valentin Silvestrov – Silent Songs
Konstantin Krimmel; Hélène Grimaud
Deutsche Grammophon 486 4104 (deutschegrammophon.com)
The fact that Hélène Grimaud is not simply a prodigiously gifted pianist, but a great artist was never in any doubt. But to be confronted with her considerable attributes in this recording of modern lieder is to be beholden to her elegant pianism in a completely new light. Even though these pieces from Silent Songs by the Ukrainian composer, Valentin Silvestrov, have been part of her repertoire for almost two decades, she helps us experience them in a completely new context, thanks in part to another Ukrainian – the formidable baritone Konstantin Krimmel.
Throughout, Grimaud's piano, of necessity, often inhabits the shadows until the music calls upon her instrument to advance into the limelight. When it does, Grimaud's dainty fingers seem to make balletic moves over the melodies, almost as if she likes her Silvestrov lieder unhurried and stoic, bejewelled with judiciously applied ornamentation. While no one song may be singled out from this brilliant cycle for special attention, Grimaud's playing on Mandelstam's poem I will tell you with complete directness is stunning.
This recording also reaches dizzying heights because of the ardent nobility of Krimmel's silken baritone as he navigates his way through these songs, inhabiting the music and poetry as if both were written expressly for him. In Krimmel's voice and Grimaud's hands we experience real lyric generosity and warmth – like sliding glass panels of melodies and harmonies constantly and delicately navigating truly damask-upholstered Romanticism.