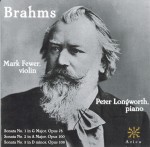 Brahms - Violin Sonatas 1-3
Mark Fewer; Peter Longworth
Azica ACD71259
Long-time collaborators Mark Fewer and Peter Longworth have produced a fascinating and thought-provoking CD of the three Brahms violin sonatas. This is not necessarily the sonatas the way you would expect to hear them: first impressions are that they're possibly a little too restrained, and perhaps lacking a sense of urgency and tension at times, but this soon proves to be irrelevant.
The opening bars of the Op.78 G Major sonata – the two warm piano chords and the almost hesitant off-beat entry of the violin – always set the tone for the whole work, and Fewer and Longworth set up their stall from the outset. The tempo is perfect, with a gentle, rhythmic lilt that never falters, and a fine sense of melodic line. Fewer's tone and vibrato are warm but never large or effusive, allowing Longworth to shine and establish a true balance and sense of partnership. No histrionics here – just subtle, reflective playing.
This mood of thoughtful interpretation continues throughout the work, and throughout the Op.100 A Major sonata as well. Finally, when the mood changes in the Op.108 D minor sonata, the duo dispel any possible doubts about their commitment with a passionate ending to a deeply satisfying CD.
The Salle Francoys-Bernier in Domaine Forget was the venue for the warm, resonant and intimate recorded sound.
These are intelligent and richly rewarding readings that offer more each time you hear them. I'll be playing them again and again.