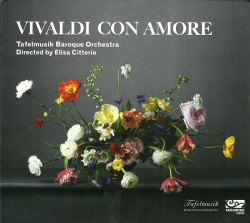 Vivaldi con amore
Tafelmusik Baroque Orchestra; Elisa Citterio
Tafelmusik Media TMK 1039CD (tafelmusik.org)
Vivaldi con amore, Tafelmusik's first recording under new music director Elisa Citterio, is a vivid and engaging reflection of both Vivaldi's ebullient musical style and Citterio's approach to working with her orchestra. Rather than releasing a disc that shines a spotlight squarely on her artistic leadership through conspicuously demanding orchestral virtuosity or by recording unexpected material, Vivaldi con amore maintains the integrity of the Tafelmusik ensemble, while putting the music first.
One of the most striking features of this recording is how, although there is a new leader at the orchestra's helm, the "Tafelmusik sound" is maintained, such that these recordings are immediately identifiable as Tafelmusik's own. Citterio's respect for the ensemble is apparent in the content of the disc, which features seven separate concerti in which the orchestra's musicians are given centre stage.
Containing over 75 minutes of the Italian master's works, the title says it all: Vivaldi con amore; but, as the saying goes, "The devil is in the details." No detail is overlooked in the interpretation of these works, with beautifully tapered phrasing throughout and thoughtful attention given to the contrasts present in Vivaldi's pieces, making each come alive in its own way.
The appointment of a new music director is a tumultuous experience for any group, especially for one as established as Tafelmusik. Vivaldi con amore shows us that we need not look to the future to expect great results from this orchestra's newest chapter; they are already here, and present on this disc.