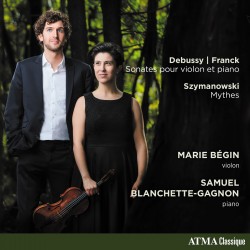 The new CD Debussy-Franck-Szymanowski finds the Canadian duo of violinist Marie Bégin and pianist Samuel Blanchette-Gagnon in quite superb form (ATMA Classique ACD2 2850 atmaclassique.com/en).
Bégin's Carlo Bergonzi violin from 1710-1715 produces a glorious sound, and there's a lovely range of tone colour from both players in the Debussy Sonata in G Minor and in the shimmering, atmospheric performance of the three Szymanowski Mythes Op.30. The heart of the disc is a wonderfully expansive and insightful reading of the Franck Sonata in A Major, with a slow build-up through the opening Allegretto, a brooding and passionate Allegro second movement, a heartfelt Recitativo: Fantasia and a final canon of depth and strength.
Two short transcriptions – Fauré's Après un rêve and Debussy's Beau soir, the latter in the Heifetz arrangement – complete a superlative CD.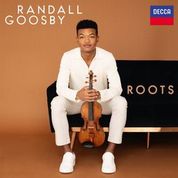 Roots, the debut CD from the young American violinist Randall Goosby has been attracting a lot of interest, and with good reason. Described as "an exploration of the music written by Black composers and inspired by Black American culture" it's a strong recital that features fine playing from Goosby and pianist Zhu Wang (Decca Classics 4851664 store.deccaclassics.com/*/CD-Classics/Roots/6Z5A16YW000).
Xavier Dubois Foley's Shelter Island for violin and string bass (with the composer on bass) is a world-premiere recording, as are the three pieces by Florence Price: Adoration and the two Fantasies, No.1 in G Minor and No.2 in F-sharp Minor. Also here are Coleridge-Taylor Perkinson's Blue/s Forms for Solo Violin, four songs from Gershwin's Porgy and Bess in the Heifetz transcriptions, William Grant Still's Suite for Violin and Piano (with its gorgeous second movement), Samuel Coleridge-Taylor's Deep River (in an arrangement by violinist Maud Powell) and Dvořák's three-movement Sonatina in G Major.
Goosby draws a full, warm tone from the 1735 "Sennhauser" Guarneri del Gesù violin, and has a lovely feel for line and phrase. Wang provides excellent support on an impressive debut disc.
From the opening bars of The Viennese Viola: Emma Wernig, the debut CD from the winner of the 2017 Cecil Aronowitz competition with Albert Cano Smit at the piano, it's clear that we're in very good hands. Wernig's warm, assured playing is supported by Cano Smit's perfectly matched accompaniment in a beautifully balanced recording of Austrian rarities for viola and piano (Champs Hill Records CHRCD163 emmawernig.com).
Hans Gál wrote his Viola Sonata in A Major Op.101 in Edinburgh in late 1942, having fled Austria in 1938. It's a lovely work, lyrical and passionate but with moments of melancholy and gloomy introspection.
Two fine works by Robert Fuchs are at the centre of the recital: his Sechs Phantasiestücke Op.117 from 1927 and his Viola Sonata in D Minor Op.86 from 1899. Brahms greatly admired Fuchs, and his influence – as well as that of Schubert – is keenly felt.
Four Schubert songs – Am See, Frühlingstraum, An die Musik and Litanei auf das Fest Aller Seelen – chosen and arranged by the two performers, complete an outstanding CD.
A third – and equally accomplished – debut CD is Elegy: Toby Hughes, featuring the young English bassist accompanied by pianist Benjamin Powell in a recital that Hughes feels offers an insight into the instrument's versatility (Champs Hill Records CHRCD162 tobyhughesdoublebass.com).
Hughes' bass is built for solo playing, custom made for him, and what a sound it has – the warmth and agility of a cello, but with heft.
The Aria et Rondo from 1952 by the French composer Alfred Desenclos opens the disc, followed by Reinhold Glière's Four Pieces – the Prelude and Scherzo Op.32 Nos.1 & 2 and the Intermezzo and Tarantella Op.9 Nos.1 & 2 – the Tarantella drawing dazzling virtuosity from Hughes. The brief Ekskize No.1, in a transcription by its composer Richard Dubugnon, was originally for voice and piano.
The other major work on the CD is the four-movement Sonata No.2 in E Minor Op.6 from 1911 by Czech composer Adolf Mišek; it's a passionate work with shades of Brahms and Dvořák. Bottesini's lovely Elegia No.1, which takes Hughes to the instrument's highest register, brings an impressive debut CD to a close.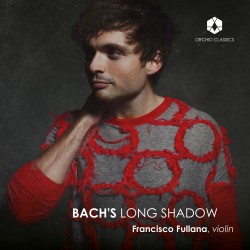 On the outstanding Bach's Long Shadow, his first solo album, the Spanish-American violinist Francisco Fullana builds a program of interlinked yet contrasting works around the Bach Partita No.3 in E Major BWV1006 (Orchid Classics ORC100165 orchidclassics.com).
Ysaÿe's Solo Sonata Op.27 No.2 directly quotes the Bach Partita. Kreisler's Recitativo & Scherzo Op.6 was dedicated to Ysaÿe, and Fullana is playing Kreisler's first Guarneri violin, the 1735 "Mary Portman" Guarneri del Gesù which, for the Bach, is set up with gut strings, Fullana using a Baroque bow and historically informed ornamentation for that performance.
Striking transcriptions of Albéniz' Asturias and Tárrega's Recuerdos de la Alhambra, the latter particularly difficult and effective, end a dazzling solo recital, Fullana being joined in an "encore" by Stella Chen, the most recent winner of the Queen Elisabeth Competition, in the first movement of Ysaÿe's Sonata for Two Violins.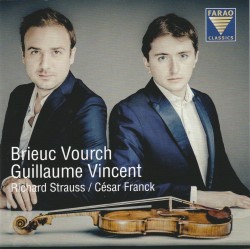 On Richard Strauss/César Franck the French duo of violinist Brieuc Vourch and pianist Guillaume Vincent present the Strauss Sonata in E-flat Major Op.18 together with yet another recording of the Franck Sonata in A Major (FARAO Classics B 108112 farao-classics.de).
There's a strong, bright tone to Vourch's 1690 Francesco Ruggeri violin in a suitably passionate performance of the Strauss.
Interestingly, the performers' booklet notes for this and the Bégin/Blanchette-Gagnon disc both mention the tough challenge of trying to find an authentic personal voice in the much-recorded Franck sonata, but the resulting performances could hardly be more different. Vourch and Vincent push the tempo throughout, especially in the Allegro and in a final canon faster than any of the four other Franck CDs I've received recently, but at times it simply feels rushed and lacking in subtlety – certainly not as thoughtful or satisfying as the Bégin disc.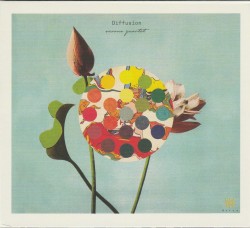 Diffusion, the outstanding debut CD from the Verona Quartet is described as exploring a mosaic of folk cultures through the lens of three quartets from the early 20th century (Azica Records ACDF-71339 veronaquartet.com).
As musicians hailing from across the world, the quartet wanted their first album to reflect the essence of the cultural migration that is such a big part of their identity. The performances of the three works – Janáček's String Quartet No.2 "Intimate Letters", Szymanowski's String Quartet No.2 Op.56 and Ravel's String Quartet in F Major – are quite superb in all respects.
The intensely personal intimacy and passion of the Janáček, written near the end of his life and inspired by his unfulfilled love for a much younger married woman, are beautifully captured in a performance that penetrates to the heart of the work. The Szymanowski, similar in style and tone, is equally striking, and a shimmering performance of the Ravel completes an extremely impressive disc full of breathtaking interpretations and playing.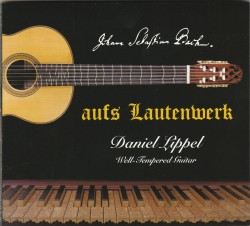 The two guitarists who form the contemporary FretXDuo, Daniel Lippel and Mak Grgic have both issued solo CDs of music by Johann Sebastian Bach played on the well-tempered guitar. The guitar is by the German luthier Walter Vogt, using his invention The Fine-Tunable Precision Fretboard, in which each fret is split into six individual moveable frets, placed according to the Well-Tempered III tuning designed by Johann Kirnberger, a composer who studied with Bach. This not only enables the music to be heard in its original keys but also retains the specific Baroque character of each key that is lost with today's equal temperament, where the subtly varying interval sizes are smoothed out.
The Lautenwerk was a Baroque keyboard instrument, essentially a lute-harpsichord with gut strings that could be plucked with different quill materials at different points along their length. On aufs Lautenwerk, Lippel performs two works for the instrument – the Suite in E Minor BWV996 and the Sonata in C Minor BWV997 – along with the Prelude, Fuga & Allegro in E-flat Major BWV998, written for lute or harpsichord (New Focus Recordings FCR920/MicroFest Records MF 18 microfestrecords.com).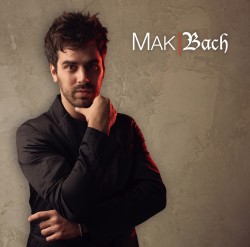 On MAK/Bach Grgic presents a simply beautiful recital of solo masterworks and chorales: the Flute Partita in A Minor BWV1013; the Solo Violin Sonata in G Minor BWV1001; and the Cello Suite in D Major BWV1012. Four brief chorales fill out the disc (MicroFest Records MF19 microfestrecords.com).
To be honest, it will probably take a very good ear to fully distinguish the nuances in the tuning here, but there's no denying the beauty of the sound or the beauty of the playing, with both performers displaying faultless technique – no easy task given the variations in individual fret placements – and an unerring feel for the period style. The Grgic CD, especially his own transcriptions of the Violin Sonata and the Cello Suite is perhaps the more satisfying program of the two, but with music and playing of this remarkable quality there's no need to choose between them.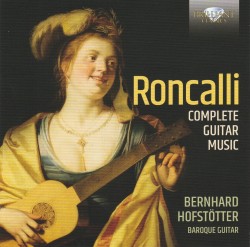 The guitar works of Ludovico Roncalli have long been popular in modern transcriptions, but on Roncalli Complete Guitar Music they are performed by Bernhard Hofstötter on a Baroque guitar attributed to Matteo Sellas of Venice, c.1640 (Brilliant Classics 2CD 95856 brilliantclassics.com).
The five-course Baroque guitar had five pairs of gut strings (the first course often single-strung, as here) with the fourth and fifth sometimes octave-strung (here with a low octave on the fourth course only).
Roncalli's 1692 Capricci armonici sopra la chitarra spagnola consists of nine sonate (suites), with eight paired in major and relative minor keys, an opening Preludio and Alemanda being followed by various dance forms. Movements are really short – mostly under two minutes. There's no indication of pitch or tuning, but the actual pitch heard is down a minor third from the listed keys.
Monica Hall's excellent booklet essay notes that Roncalli's "exquisite melodic lines and elegant counterpoint are seamlessly combined with the strummed five-part chords which were still a defining feature of guitar music at the time."
Hofstötter's masterful playing is an absolute delight throughout.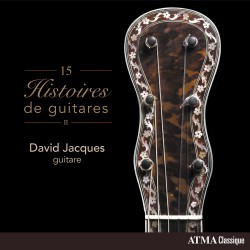 The addition of a sixth string (the low E) in the 1790s established the guitar form that would flourish throughout the 19th century. In his second volume of Histoires de guitares Quebec guitarist David Jacques features 15 historical guitars from his astonishing private collection, all but one from the period 1800-1880, and each one illustrated in colour in the excellent booklet (ATMA Classique ACD2 2821 atmaclassique.com/en).
The 28 short, charming pieces by Giuliani, Sor, Carulli, Paganini and 13 lesser-known composers were chosen specifically to showcase each instrument's individual qualities and character, and they include some real gems – the three pieces by the English composer Ernest Shand, for instance.
They're all beautifully played too, with clean technique, sensitivity and a nice range of tonal colour.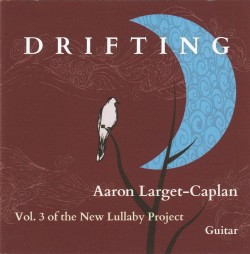 Drifting, Volume 3 of the New Lullaby Project is the latest CD from guitarist Aaron Larget-Caplan in his excellent series of specially commissioned guitar solos which began in 2007 (Six String Sound 888-03 stonerecords.co.uk).
The 15 short pieces here were written between 2010 and 2020 by 15 different composers, and while they're not intended to help children get to sleep there's nothing strident or challenging to the ears. "The compositional language leans tonal and the tuning remains mostly standard," says Larget-Caplan, "but don't worry, harmonics still abound." Indeed they do, in another captivating addition to a significant series that continues to add miniature gems to the contemporary guitar repertoire.
You can find my review of Nights Transfigured – Volume 2 of the New Lullaby Project in the May/June 2021 edition of Strings Attached.