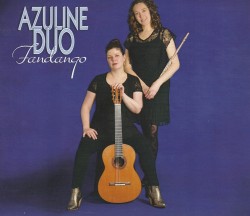 There are two fascinating CDs from Canadian guitarist Emma Rush. On Fandango by the Azuline Duo she is joined by flutist Sara Traficante in a program of mostly contemporary works for flute and guitar (azulineduo.com). The title track is the duo's own arrangement of a piece for solo Baroque guitar by Santiago de Murcia (1673-1739); the duo also arranged the two works by the Brazilian Chiquinha Gonzaga (1847-1935).
Traficante plays alto flute in Miroslav Tadić's Macedonian Pieces and wooden flute and tin whistle in Five Celtic Pieces, Gerald Garcia's striking arrangements of traditional Irish and Scottish melodies. Maximo Diego Pujol's Nubes de Buenos Aires and Jeffrey McFadden's Aguardiente complete a refreshingly different and quite beautiful CD.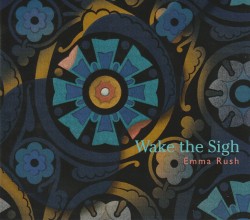 Rush's solo CD Wake the Sigh – 19th Century Music for Guitar (emma-rush.com) opens a window on a world we rarely encounter with a collection of works for both accomplished amateur guitarists and professional players, all written by women, five of whom were renowned soloists in their own right.
Featured are: Emilia Giuliani-Guglielmi (1813-1850); Angiolina Panormo Huerta (1811-1900); Catharina Pratten (1824-1895); Susan C. Domett (1826-1911); Julie Fondard (1819-1864?); Julia Piston (c.1800-1842); and Madame Delores de Goñi (1813-1892).
As with the Fandango CD, there's clean, sensitive playing of an intriguing program. No information on when or where they were recorded, other than "in Hamilton Ontario, produced and engineered by Kirk Starkey," who clearly did a terrific job.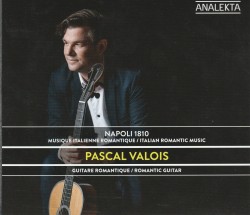 Napoli 1810: Italian Romantic Music is the first album on the Analekta label for Canadian guitarist Pascal Valois, who performs music from the Romantic era on period instruments (AN 2 9195 analekta.com/en). The guitar here is a Cabasse-Bernard model c.1820 with a soft, warm sound – not big, but with a nice range of colour and tone.
Italian music, with its strong bel canto vocal influence, dominated the early-19th-century virtuoso guitar repertoire, and Valois uses period-appropriate elements of the style to highlight the lyrical nature of the music. Niccolò Paganini's Grand Sonata, Mauro Giuliani's Sonata Op.15 and Ferdinando Carulli's Six Andantes Op.320, his Sonatina Op.59 No.1 and Sonata Op.159 No.1 – the latter two in world-premiere recordings – make an attractive and finely played recital.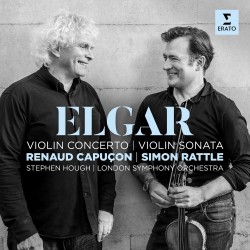 Renaud Capuçon is the soloist on Elgar Violin Concerto & Violin Sonata with Simon Rattle and the London Symphony Orchestra, pianist Stephen Hough joining Capuçon in the sonata (Erato 9029511282 warnerclassics.com).
Capuçon admits that the concerto has always moved him deeply, and that recording the work with Rattle and the LSO – the orchestra that played in the 1910 premiere and was also conducted by Elgar in the famous 1932 Menuhin recording – was an inspiring experience, feelings that are clearly evident in a heartfelt performance.
The Violin Sonata in E Minor Op.82 from 1918 is a truly lovely work, with Capuçon and Hough proving to be sensitive partners in an outstanding reading.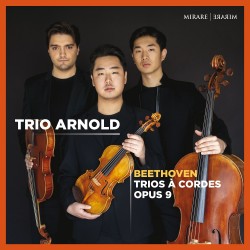 The Trio Arnold is in outstanding form on its debut CD for the Mirare label, Beethoven String Trios Op.9 (MIR550 mirare.fr).
The three works – No.1 in G Major, No.2 in D Major and No.3 in C Minor – were written as Beethoven sought to establish himself as a chamber music composer, the risk of comparison with the string quartets of Haydn and Mozart leading him to choose the safer option of string trios. They clearly act as preparation for the string quartets, and indeed sound like quartets at times.
The release sheet cites "beauty of sound and a high degree of instrumental virtuosity" in the works, and that's also exactly what the Trio Arnold displays in superb performances.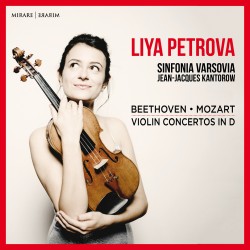 There's more Beethoven on another Mirare CD with Liya Petrova playing Beethoven & Mozart Violin Concertos in D with the Sinfonia Varsovia under Jean-Jacques Kantorow (MIR552 mirare.fr).
The Beethoven is a beautiful performance in all respects, but the bigger interest here, perhaps, is the Violin Concerto No.7 K271a/271i attributed to Mozart, the true provenance of which remains unknown and hotly debated. Breitkopf & Härtel published an edition in 1907, and a set of parts was prepared in 1837 in Paris, apparently from the now-lost autograph. It's a substantial work with passages of pure Mozartean beauty and sections that sound less than convincing, especially the pizzicato cadenza in the slow movement.
Again, simply beautiful playing makes a strong case for a fascinating work.
Beethoven was obsessed with Bach's Well-Tempered Clavier and used many melodic motifs from it in his late quartets. Prism III is the third volume in the ongoing series by the Danish String Quartet that aims to show how the radiance of Bach's fugues is refracted through Beethoven's quartets to illuminate the work of later composers. (ECM New Series ECM2563 ecmrecords.com/catalogue).
There's a clear line here from Bach's Fugue in C-Sharp Minor, with its four-note BACH motif, through Beethoven's String Quartet No.14 in C-Sharp Minor Op.131, which starts with a fugue and a four-note motif, to Bartók's String Quartet No.1, which also opens with a four-note motif and pays direct homage to the Beethoven.
Outstanding playing and interpretation result in a terrific CD.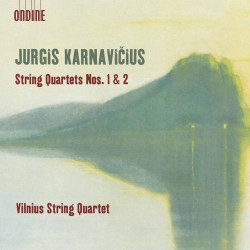 Even if you're aware of the Lithuanian composer Jurgis Karnavičius (1884-1941) you almost certainly haven't heard his string quartets; Jurgis Karnavičius String Quartets Nos.1 & 2, the first two of his four quartets, are presented in world-premiere recordings by the Vilnius String Quartet (Ondine ODE1351-2 naxosdirect.com/search/ode+1351-2).
Karnavičius moved to St. Petersburg in 1903, writing his first quartet on graduating from the Conservatory in 1913. Drafted into the Russian army the following year, he wrote his second quartet in 1917 while a prisoner of war. They are works in the Russian classical tradition, tinged with Lithuanian folk elements and a hint of early-20th-century modernism.
The Lithuanian Vilnius Quartet, founded in 1965, gives wonderfully sympathetic performances, beautifully recorded with a full, resonant sound quality on a gorgeous CD.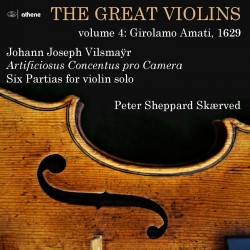 Peter Sheppard Skærved continues his fascinating exploration of outstanding violins with The Great Violins Vol.4: Girolamo Amati, 1629, performing the Six Partias for solo violin from 1715 by Johann Joseph Vilsmaÿr (1663-1722) (Athene ATH 23210 naxosdirect.com/search/ath23210).
The Partias, all consisting of eight, nine or ten very short movements, are described as "an extraordinary bridge" from the solo compositions of German composers like Biber to the later masterpieces of Bach and Telemann. They receive beautifully nuanced performances in a generous CD of almost 82 minutes.
As always, Sheppard Skærved's booklet essay is remarkably erudite and informative, examining the use of scordatura and the emotional effects attached to specific key signatures in order to understand the physical and emotional structure of the music.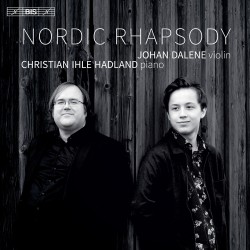 The 20-year-old Swedish violinist Johan Dalene, winner of the 2019 Carl Nielsen Competition, is joined by Norwegian pianist Christian Ihle Hadland on Nordic Rhapsody, his second CD on the BIS label (BIS-2560 naxosdirect.com/search/bis-2560).
A dazzling Presto from Sinding's Suite im alten Stil Op.10 sets the tone for a recital bursting with strong, brilliant tone and outstanding technique, with Hadland an excellent partner. Stenhammar's Two Sentimental Romances Op.28, three of the Six Pieces Op.79 by Sibelius, Nielsen's Romance in D Major, Rautavaara's Notturno e Danza and Grieg's Sonata No.1 in F Major Op.8 complete an impressive recital disc from a player from whom we will clearly be hearing a lot more in the future.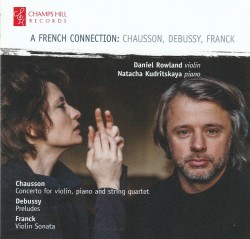 On A French Connection violinist Daniel Rowland and pianist Natacha Kudritskaya present what the violinist calls "two wonderful, luscious, gorgeously romantic pieces, one a perennial favourite, the other still all too rarely heard" (Champs Hill Records CHRCD157 champshillrecords.co.uk).
The latter is Chausson's Concerto for Violin, Piano & String Quartet, the duo being joined by violinists Francesco Sica and Asia Jiménez Antón de Vez, violist Joel Waterman and cellist Maja Bogdanović in a passionate performance to open the disc.
World-premiere recordings of effective arrangements of three Debussy Preludes by Craig White precede the "perennial favourite": the Franck A Major Sonata. It does indeed turn up regularly on CD, but is nevertheless always welcome, especially in warm, sensitive performances like this.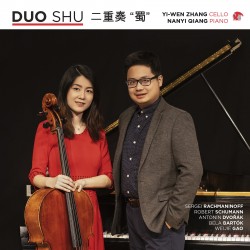 Cellist Yi-wen Zhang and pianist Nanyi Qiang have been collaborating since 2002 and founded the DUO SHU in 2019. Their self-titled debut CD on the Blue Griffin label features two songs by Fauré, Schumann's Five Pieces in Folk Style Op.102, Rachmaninoff's Vocalise Op.34 No.14, Dvořák's Four Romantic Pieces Op.75 and Bartók's Romanian Folk Dances, together with Longing for SHU by Weijie Gao (BGR581 bluegriffin.com).
It's a very pleasant disc with some passionate playing, particularly in the Dvořák, with a singing cello tone and crystal-clear piano playing, although the double-stopping passages in the cello sound a bit laboured in places.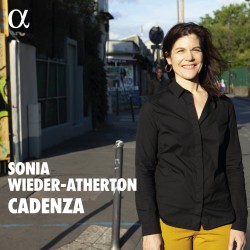 Chances are you've never heard Boccherini cello concertos sound the way they do on Cadenza, the new CD from cellist Sonia Wieder-Atherton that features the concertos No.3 in D Major G476, No.4 in C Major G477 and No.6 in D Major G479 in small combo arrangements by Wieder-Atherton and cimbalom player Françoise Rivalland. The other players are Amaryllis Billet (violin), Rémi Magnan (double bass) and Robin Billet (bassoon) (ALPHA667 naxosdirect.com/search/alpha667).
Wieder-Atherton says that incorporating the cimbalom results in our "hearing the dances, the infinite colours and the bursts of rhythmic music," but it does seem an odd way to present Boccherini, especially when you add the lengthy cadenzas from various contributors with – at times – cimbalom, drones and finger cymbals, and musical material from Handel and Stravinsky.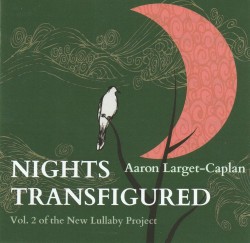 Guitarist Aaron Larget-Caplan follows up his 2010 CD New Lullaby – 14 Enchanting Ways to Fall Asleep with Nights Transfigured – Vol.2 of the New Lullaby Project, a second collection of short pieces by 14 different composers written for Larget-Caplan between 2009 and 2020 (Stone Records 5060192781106 stonerecords.co.uk).
Don't be misled by the title. Although there's obviously a general sense of calm throughout the CD, this isn't a disc of music for children but a fascinating collection of exquisite contemporary miniatures for classical guitar that explore a wide range of musical languages and often employ extended guitar technique, all of it beautifully played and recorded.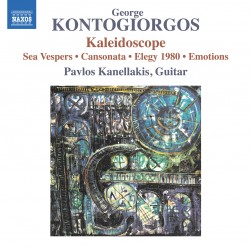 Greek guitarist Pavlos Kanellakis is the soloist on Kaleidoscope, a recital of world-premiere recordings of works by George Kontogiorgos (Naxos 8.579084 naxosdirect.com/search/8579084). The music is essentially tonal and very accessible.
The five-movement Sea Vespers from 2015 takes melodies from the composer's songs from the 1960s and 1970s. Kanellakis is joined by cellist Vangjel Nina in the four-movement Cansonata from 2014. Elegy was written in 1980 and revised for Kanellakis in 2006 when Kontogiorgos was writing the commissioned guitar suite that gives the CD its title, the four-movement Kaleidoscope consisting of multi-coloured fragments that shift and dance as if viewed through a kaleidoscope.
The darker Emotions from 2018 completes a recital of performances that can be considered definitive, Kanellakis having worked closely with the composer.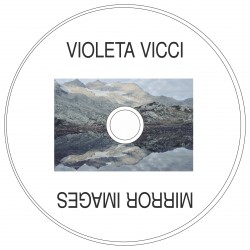 Mirror Images, the latest album from violinist, violist and vocalist Violeta Vicci, features world-premiere recordings of solo works by Ragnar Söderlind, Imogen Holst and Jean-Louis Florentz, plus related works by Bach and Ysaÿe and six interspersed improvisations (two of them vocal) by Vicci (Gramola GRAM98010 naxosdirect.com/search/gram98010).
Bach's Partita No.3 in E Major (with hardly any repeats, lasting just 14 minutes for all seven movements) and Ysaÿe's Sonata in A Minor are given competent if somewhat mundane performances; the Söderlind is the brief Elegia II and the Florentz an equally-brief Vocalise. By far the most interesting work, though, is the 1930 Holst Suite for Solo Viola, which also draws the best playing from Vicci.