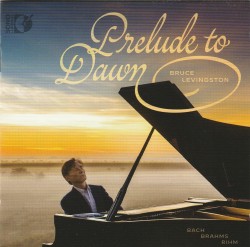 Prelude to Dawn
Bruce Levingston
Sono Luminus DSL-92245 (sonoluminus.com)
Highlights for me of pianist Bruce Levingston's Prelude to Dawn are the variation works that begin and end the recording. Brahms' challenging arrangement for left-hand piano of Bach's violin Chaconne in D Minor is played securely, from the perfectly voiced rolled chords of the theme onward. Through great variety of articulation and tone colour, the work's 64 variations remain fascinating and in character. Levingston's pedalling is especially good in clarifying bass, melody, inner parts and chord structure. The same is true in the Theme and Variations in D Minor, Op.18b, Brahms' piano arrangement of the profound second movement from his B-flat Major String Sextet. Here Levingston captures the disturbing mood of a broken-up version of the theme in bringing the disc to a moving close.
As for the other pieces, preludes one and two from Wolfgang Rihm's early Six Preludes are unexpected but effective choices. I especially like the pianist's pacing and control of dynamics in the spare No.2, with its very low notes suggesting tolling bells. Originally for lute or harpsichord, Bach's Prelude, Fugue and Allegro in E-flat Major is unique. Levingston's flowing prelude and the meticulously articulated fugue with its unusual broken-chord interlude especially captured my interest. Two chorale preludes, the Bach-Busoni Sleepers, Awake and Brahms' organ masterpiece Herzlich tut mich verlangen add to the disc's pensive mood. Indeed, recent trying times are a subtext here, but so are notes of passion and hope in Prelude to Dawn.