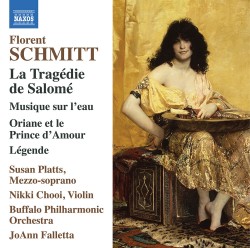 Florent Schmitt – The Tragédie de Salomé
Susan Platts; Nikki Chooi; Buffalo Philharmonic Orchestra; JoAnn Falletta
Naxos 8574138 (naxosdirect.com/search/8574138)
JoAnn Falletta's conducting career goes from strength to strength: music director of the Buffalo Philharmonic; myriad recordings for Naxos; a 2019 Grammy Award. The four works on this disc by Florent Schmitt (1870-1958) demonstrate Falletta's ability to attain expressive, assured results with complex scores for large orchestra. The composer's style extends the scope of French Impressionism, with rich and fluid sonorities but also with passages that feature more dissonant writing.
Musique sur l'eau (1898) is sung by mezzo Susan Platts with a full and seamless tone that goes well with Schmitt's lush, colourful setting. The symphonic poem La Tragédie de Salomé (1910, revised from the earlier ballet) opens with an evocative prelude out of which a wonderfully played English horn solo takes the lead. In the succeeding dances, menacing strings and violent brass interpolations prefigure a horrific ending. Another ballet-based work is the Suite – Oriane et le Prince d'Amour (1934-37). In this later work, Schmitt's harmonic language has advanced considerably, with lush and complex chords and figurations that Falletta and the excellent Buffalo players navigate with well-paced clarity. The dance in 5/4 time in this work is a motivic and rhythmic tour de force. Finally, the violin-orchestra version of Légende, Op.66 (1918) receives its recording premiere here. Légende is a staple of the alto saxophone repertoire, but with the well-modulated, expressive tone of Canadian violinist Nikki Chooi it also comes across exceedingly well in this version.