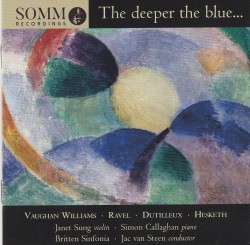 The Deeper the Blue…
Janet Sung; Simon Callaghan; Britten Sinfonia; Jae van Steen
Somm Recordings SOMMCD 275 (naxosdirect.com)
The title of this disc refers to a series of associations in the areas of harmony and instrumental colour. A key figure is prominent British composer Kenneth Hesketh (b.1968), recipient of many significant commissions and awards. A student of Henri Dutilleux (1916-2013), Hesketh orchestrated that composer's piano suite Au gré des ondes (1946) and the recording here by the Britten Sinfonia led by Netherlands conductor Jac van Steen is delightful. Among these six post-Ravelian miniatures I am particularly enchanted by the oboe solo in Improvisation, accompanied by a complex textural weave with particularly notable harp writing. The harp is also prominent in Mouvement perpétuel, where rapid flutes, piccolos, trumpets, horns and violins compete for attention.
Hesketh's own composition Inscription-Transformation for violin and orchestra pays homage to his teacher and to his grandmother Muriel McMahon. It is a substantial work where sustained long pedal points provide direction including a suggestion of the octatonic (eight-tone) scale structure. In the foreground is an exciting solo part played cleanly and with brio by US-based virtuoso Janet Sung; it is by turn aggressive and calm, and is supplemented by instrumental scatterings and outer-space-like sonorities from the other instruments. Sung also excels with pianist Simon Callaghan in Ravel's Tzigane and in Vaughan Williams' Concerto for Violin and String Orchestra (1924-25), which is well shed of its former name "Concerto Academico" – I especially enjoyed the melodic invention of the slow movement and the irresistible closing Presto.