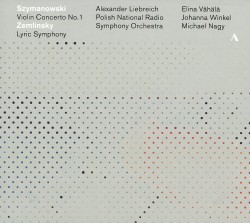 Szymanowski: Violin Concerto No. 1; Zemlinsky: Lyric Symphony
Elina Vähälä; Johanna Winkel; Michael Nagy; Polish National Radio Symphony Orchestra; Alexander Liebreich
Accentus Music ACC 30470 (accentus.com)
Many recordings that include the Violin Concerto No.1 by Karel Szymanowski (1882-1937) or the Lyric Symphony by Alexander Zemlinsky (1871-1942) are now available. This Polish CD features idiomatic orchestral playing of the Szymanowski; also, its particular pairing points up what the two composers have in common. French-Impressionism-influenced exoticism, romance and fantasy figure in their works, and both set Rabindranath Tagore poems from the same translation (Szymanowski in Four Songs, op. 41). Violinist Pawel Kochański's 1915-16 collaboration gave Szymanowski great confidence; here, the resulting concerto's fiery virtuosity and sensual melodies receive nuanced, secure treament from Elina Vähälä. By contrast, Anne Akiko Meyers' 2017 Avie recording with the Philharmonia Orchestra features more assertive bowing and tone, with a broader sweep to lyrical passages and the cadenza.
Zemlinsky's Lyric Symphony (1923) includes seven Tagore settings, presenting a love affair's successive moods. In the central fourth movement ("Speak to me..."), Johanna Winkel's soprano is magical, its long tones suspended over a soft ostinato plus harp and celeste glissandi. Michael Nagy brings a powerful, attractive baritone to the following riposte, "Free me ...," whose swagger fails to mask underlying despair. I find the Polish National RSO orchestra led by Alexander Liebreich excellent; the recorded sound, however, needs more instrumental definition, as in the Orchestra de Paris version (Capriccio, 2007) conducted by Christoph Eschenbach. Still, for those whose collection lacks these two works, this Accentus disc would be a valuable addition.