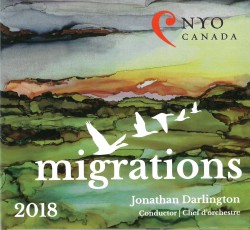 Migrations
National Youth Orchestra of Canada; Jonathan Darlington
Independent NYOC2018CD (nyoc.org)
Richard Strauss commented at least once on how unusually polyphonic (many-voiced) his musical brain was. Indeed, in preparing Strauss' extraordinary work Ein Heldenleben (A Hero's Life) the 2018 National Youth Orchestra of Canada's nearly 100 advanced musical brains have been suitably challenged! Expertly conducted by Jonathan Darlington, the tone poem's long-range progression through myriad orchestral details is engrossing. Part way through the third of the composition's six sections I realized that the performers were on a heroic path of their own with this confident performance. So, kudos to last summer's conductor, faculty and young instrumentalists who brought this excellent recording, plus an ensuing performance tour of Germany and Scotland, to fruition.
Four works by accomplished Canadian composers follow on the disc. Evoking the natural world, Moontides by the well-recognized John Estacio is about to be connected to a forthcoming film about lunar tides. From the beginning, sweeping and brilliant orchestral colours and textures create a mysterious mood within the tonal, harmonic framework. Nature also is suggested in River Memory, a 2018 NYOC commission from emerging composer Alison Yun-Fei Jiang that is likewise imaginatively orchestrated with metamorphoses of timbre and expert percussion scoring. Here the pitch basis includes long pedal notes and intervallic patterns rather than chords. The NYOC program traditionally includes choral singing; brief and effective a cappella choruses Lead Us Home (by Matthew Emery) and Terre-Neuve (by Marie-Claire Saindon) round off this remarkable disc.