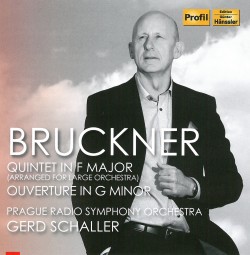 Bruckner – Quintet in F Major; Ouverture in G Minor (Large Orchestra versions)
Prague RSO; Gerd Schaller
Profil Edition Hanssler PH16036 (haensslerprofil.de)
Featuring conductor Gerd Schaller's new arrangement – the first for large orchestra – of Anton Bruckner's String Quintet in F Major (1878), this disc counts as a major success. Already Schaller has recorded the Bruckner symphony cycle; here he adds the composer's major chamber work, in orchestral garb. The Prague Radio Symphony Orchestra's immaculate performance is well-paced, the musicians rising to the technical and interpretive challenges of this premiere; they produce excellent tone quality at all dynamic levels. The string quintet was composed following Bruckner's Fourth Symphony revision. Schaller's well-informed arrangement really sounds like a Bruckner orchestral work of that era.
The pastoral first movement sets out the orchestral palette, with comforting strings followed by more varied winds, leading to brass climaxes at pivotal points. Then the Scherzo-Trio adds witty contrasts – pauses and harmonic surprises. The acclaimed Adagio makes a profound centrepiece, the organ-like orchestration reminding me that Bruckner's genius in improvisation was legendary. Next comes Schaller's interpolation of a shortened version of the Intermezzo that Bruckner originally composed as a simple alternative to the Scherzo-Trio. Although I don't see the interpolation as necessary, it does serve as a transition in emotional terms from the Adagio to the Finale, whose charming opening alternates with knotty wide-ranging passages. In closing, the Quintet's material is wonderful in both the chamber work and this orchestral arrangement; Bruckner's early Ouverture in G Minor (1863) merely adds to the disc's attractions.