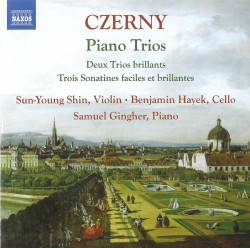 Czerny – Piano Trios
Sun-Young Shin; Benjamin Hayek; Samuel Gingher
Naxos 8.573848 (naxosdirect.com/items/czerny-piano-trios-457583)
This disc provides additional recognition for the chamber music of Carl Czerny (1791-1857). The Deux Trios brillants, Op.211 (1830) illustrate my sense that the Beethoven-taught Czerny has a more Romantic side that I prefer, and a more classical side that I do not. My first exposure to the Czerny chamber revival was an energetic, Beethoven-ish recording by Anton Kuerti and St. Lawrence String Quartet members of the composer's Piano Quartet. In that spirit, on this disc I love the second trio of Op. 211 in A Major, where virtuosity serves expressive ends, harmony demonstrates the advances of the early-Romantic era, and there is the sense of power and growth. The third movement surprises in its Bolero rhythm, adding vitality and contrast. The first trio in C major shows Czerny's classically precise writing for piano in a high register. But the material I find prim, exhibiting a music-box effect sometimes.
The Trois Sonatines faciles et brillantes, Op.104 (1827) for advanced students, illustrate the older tradition of piano as leader, violin and cello as accompanists, with opportunities for improvisation. Again, my inner Romantic leads me to prefer the final A-Minor Sonatina to those in G and C Major. I respect the articulate pianism throughout of Samuel Gingher, supported by colleagues Sun-Young Shin, violin, and Benjamin Hayek, cello. Playing on modern instruments their style leans Classical or Romantic as appropriate, but is never mechanical.