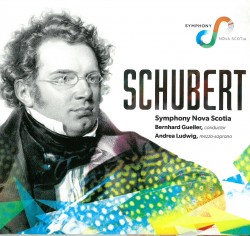 Schubert – Symphony No.3; Orchestral Songs
Andrea Ludwig; Symphony Nova Scotia; Bernhard Gueller
Symphony Nova Scotia SNSM001 (symphonyns.ca)
Franz Schubert's Symphony No. 3 (1815) initially struck me as too slight to be the main work on this Symphony Nova Scotia disc. But an early Romantic sensibility already animated the 18-year-old composer, and I have changed my mind. The light themes of the opening movement undergo minor-key twists in the development, and the Allegretto also contains interesting key digressions. The last movement's perpetual motion for me anticipates the tremendous energy of Schubert's finale to the Symphony No. 9 in C Major (featured in William Forsythe's wonderful ballet The Vertiginous Thrill of Exactitude). Here, Symphony Nova Scotia conductor Bernhard Gueller brings out comparable energies, including confident, incisive playing from the excellent Symphony Nova Scotia strings. And congratulations to the solo winds for sensitive phrasing in the lyrical middle movements.
Orchestral song came to the fore later in the 19th century. Its early proponent Hector Berlioz's tremendous orchestration of Schubert's Der Erlkönig appears here, along with Max Reger's more subdued version. In all the songs, mezzo-soprano Andrea Ludwig conveys text and mood movingly and unfailingly – just listen to the Anton Webern-orchestrated Du bist die Ruh! Canadian composers Brian Current (Im Abendrot/At Dusk) and Kati Agócs (Ständchen/Serenade) fulfilled orchestration commissions successfully for this disc. Current's use of string tremolo harmonics gives an intriguing otherworldly effect to Im Abedrot, while Agócs deploys piquant winds and an orchestral buildup in her moving Ständchen. The disc is a triumph for all involved.