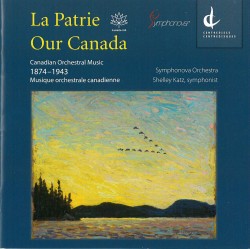 La Patrie/Our Canada – Canadian Orchestral Music 1874-1943
Symphonova Orchestra; Shelley Katz
Centrediscs CMC CD 25618 (musiccentre.ca)
Bringing unrecorded music to life is exciting, but this disc's innovative means make it miraculous! Remarkable UK-based Canadian conductor and inventor Shelley Katz leads the Symphonova Orchestra, employing proprietary technologies developed for digital baton control and acoustic design that augment the playing of solo musicians up to the sound of a full orchestra. La Patrie/Our Canada: Canadian Orchestral Music 1874-1943 shows Symphonova making significant and intriguing heritage repertoire available to us for the first time. One example is Ernest MacMillan's Overture (1924, written for the Toronto Symphony), a substantial post-Romantic work with a Scottish tinge, beautifully harmonized and orchestrated, with sound convincing enough that I was fully drawn into the work.
In the disc's opener, Calixa Lavallée's charming concert overture La Patrie (first performed in 1874), it took time to adjust to the string tone: cooler and with less bow presence than that of an orchestra section. But after that, listening went smoothly: Rodolphe Mathieu's early atonal Trois Préludes (1912-15) are attractive with a hint of mystery; I was ready for the convincing string writing in Georges-Émile Tanguay's Pavane (1936) and Murray Adaskin's Serenade for Strings (1934). And now gaps in our knowledge of major Canadian composers are being filled with Violet Archer's witty, never-played Capriccio for Hand Timpani (1939) and John Weinzweig's radio suite Our Canada (1943). Seeking out archival-quality orchestral recordings of seldom-heard works I'm used to. But acoustically this CD brings more listening pleasure, and I look forward to listening again.