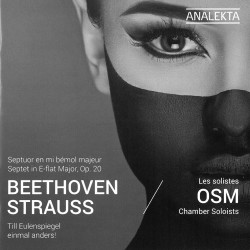 Beethoven – Septet; Strauss – Till Eulenspiegel einmal anders!
OSM Chamber Players
Analekta AN 2 8788 (analekta.com)
Ludwig van Beethoven's Septet, Op.20 (1799) was a pivotal work. Such learned musicians as the composer's former teacher Joseph Haydn applauded its expert deployment of four stringed and three wind instruments: violin, viola, cello, double bass, clarinet, bassoon and horn. Energy, wit and sunny moods gained it public popularity, and listeners will likely find this recording by the Orchestre symphonique de Montréal Chamber Soloists attractive. Variety in sound brings the work its distinctiveness. While artistic director Andrew Wan's agile violin and Todd Cope's impeccable clarinet take the lead, other instruments also have solo turns, and wonderful instrumental groupings sustained this listener's interest. In the Adagio, instrumentalists make the most of expressive opportunities; Neal Gripp's viola solo is particularly attractive. All players bring fine articulation to the minuet, while in the trio Cope, Stéphane Lévesque, bassoon, and John Zirbel, horn add beautiful decorative arpeggios. Cellist Brian Manker and double bassist Ali Yasdanfar contribute greatly to overall balance and tight ensemble; the finale is a tour de force.
Richard Strauss's Till Eulenspiegel (einmal anders!), abridged and arranged by Franz Hasenöhrl (1885-1970) for the above forces minus viola and cello, is a tour de force of a different kind. Premiered in 1954, it squeezes the familiar tone poem's thematic material into less than nine minutes, including exciting virtuosity and humorous touches that in the Chamber Soloists' capable hands remain within the bounds of taste!