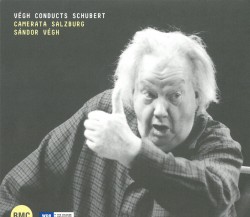 Végh conducts Schubert
Camerata Salzberg; Sándor Végh
BMC Records CD 201 (bmcrecords.hu)
Best known as violinist leader of string quartets, Sándor Végh (1912-1997) in later life conducted the chamber orchestra now known as Camerata Salzburg; it attained a high standard as is evidenced by these discs. The opening introduction of Symphony No.1 in D Major (1813) leads into the Allegro through an attractive chain of suspended notes, a feature that recurs as the Allegro theme returns. Végh shapes the lyrical second theme beautifully. The lilting Andante and the Trio of the Menuetto movement are also fine examples of the lyrical style, with strings and winds equally integrated. Symphony No. 2 in B-flat Major (1814-15) opens more promisingly with woodwinds in dialogue, followed by an Allegro energetic and melodic in turn. Clarity in the strings is matched even by the cellos and bass; the winds are flawless.
In Symphony No. 3 (1815) Schubert returned to the key of D Major with more formal assurance and ability to develop first-movement themes. The charming Allegretto that follows is the highlight of the work for me. Symphony No. 4 in C Minor "Tragic" (1816) reinforces our astonishment at Schubert's rapid progress before he reached the age of 20! The Introduction of this minor-key work is moving indeed and Végh communicates the changed mood convincingly throughout. Good intonation, excellent ensemble and orchestral balance prevail. Idiomatic and elegant performances have raised my estimation of all these works and of Végh as conductor; they will receive many hearings.