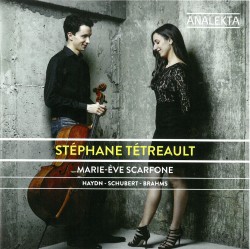 Haydn; Schubert; Brahms
Stéphane Tétrault; Marie-Ève Scarfone
Analekta AN 2 9994
This cello disc comprises three significant works by Viennese masters. Haydn's delighful Divertimento in D Major was arranged for cello and piano by Gregor Piatigorsky from the original, composed for the viol-related baryton, viola and cello. Cellist Stéphane Tétreault is heartfelt in the opening Adagio's melodies, still achieving classical poise with pianist Marie-Ève Scarfone. They convey the Menuet's classicism and match the finale's brightness and geniality. For me the disc's highlight is Schubert's Sonata in A Minor for the six-stringed, bowed arpeggione (1824), now usually played on the cello. The duo's reading is impassioned, its expression tasteful. Dramatic arpeggios and leaps suggest agitation and crying. The Adagio's emotional opening cello melody carries forward into a well-shaped long line. There is plenty of colour in Tétreault's playing, with flexibility of tempo and perfect ensemble by the duo.
Lucie Renaud's fine program notes point out nostalgic and historical elements in Brahms' Sonata in E Minor (1871) – for example the second movement's minuet and third movement's fugato – and connections to the disc's previous works. After the Schubert, I was struck by this piece's analogous leaping cello cries in the first movement's opening theme. And Brahms-like Schubert is a master at mixing major- and minor-key inflections that evoke shifting moods. The performers are neither routine nor precious in their expressive reading of the Menuetto. And Scarfone comes to the fore in the finale, playing its contrapuntal passages with fire and conviction.