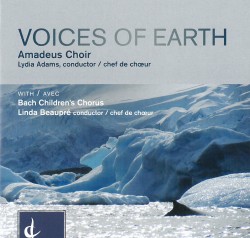 Voices of Earth
Amadeus Choir; Lydia Adams; Bach Children's Chorus; Linda Beaupré
Centrediscs CMCCD 21915
Lydia Adams' Amadeus Choir has produced its eighth CD, featuring the music of four Canadian composers, two of whom perform on the recording. The title piece is composed and played by pianist Ruth Watson Henderson, joined by a percussion ensemble along with another featured composer, Eleanor Daley, playing the celeste. This, and others on the recording, afford another opportunity for the choir to partner with the Bach Children's Chorus, celebrating 28 years of collaboration. Voices of Earth is a multi-movement work with a great variety of harmonic colour and ever-changing rhythms which mirror the dynamic character of nature and creation. Similarly, the next piece, Of Heart and Tide by Sid Robinovitch, portrays another force of nature, the sea, with musical undercurrents evoking the awesome power therein. Eleanor Daley's pieces are of a different character altogether and contrast nicely; her Salutation of the Dawn and Prayer for Peace are essentially quiet, heartfelt devotionals. I Will Sing Unto the Lord by Imant Raminsh is joyful and jubilant, rounding out the program nicely. It is, as always, truly wonderful to experience the convergence of excellent singers, instrumentalists, conductor and composers who are unequivocally passionate about choral music.